My name is Gail Weiss and I live in gorgeous Portland, Oregon with my husband Gregg.  We have a small T-shirt printing company called Phantom Chicken, where I do graphic work and bookkeeping all via the computer. Needing to reconnect to tactile sensory projects, I've rekindled my love of sewing and through that I've found a new love of quilting.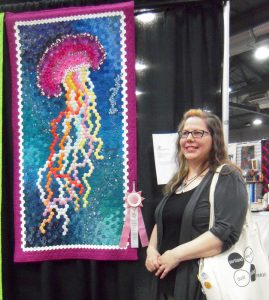 With my ribbon-winning Jellyfish quilt
Quilting is an art form. I process many intense emotions through my quilting, so it has also become a sort of art-therapy.
Coming from a background of extreme religion, then homelessness and abuse, I've struggled both with drug and alcohol addiction as well as physical and emotional well-being. Luckily, I've found quilting to be my go-to, feel-good thing to do. So much better than any other addiction I've ever had. Not only that, but it's so rewarding to actually make something with my own hands instead of being negative and bringing myself down!
In 2010 I joined the Portland Modern Quilt Guild and through that group I have met many amazing friends and learned more than I could have ever imagined! I started blogging around the same time, and here I am a few years later, still quilting, still blogging, still learning… and still making more friends!
I love all kinds of feedback!
Whether constructive criticism, suggestion or compliment, feel free to contact me at: glw@gaillizette.com
Or send me a direct note here: