Do you ever notice how your productivity is affected by what you listen to? Lately I've been listening to books on CD while I sew. I was listening to good groovy music for a while, and that was cool for a while. But I find I get tired of trying to match my sewing mood to music. Listening to stories is a very nice change of pace.
So I started cutting tail feathers for my rooster project:
When I did the background I listened to "Drood" by Dan Simmons. It's an interesting fictional story about Charles Dickens his "wild boys" who live in the sewers beneath London. With the start of working on the tail feathers, I started a new seven-book series by Kevin J. Anderson. The first book is: "Hidden Empire" and so far is starting off great. I need something that will draw me to my sewing area and keep me there for a while. The books on CD are really working for me 🙂
I got all the feathers cut and this was my first take: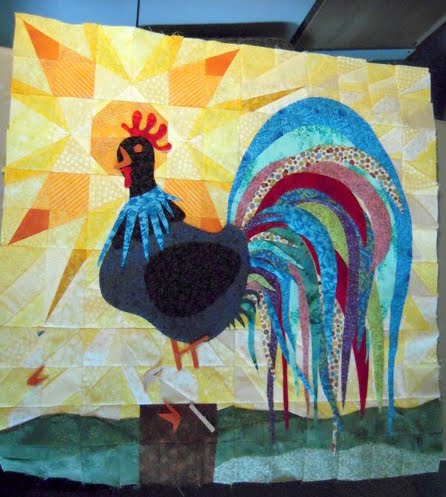 Lots of re-working
I liked it, but something just wasn't right… and so I changed up one color: The flower print on white has been rejected for a darker maroon print fabric: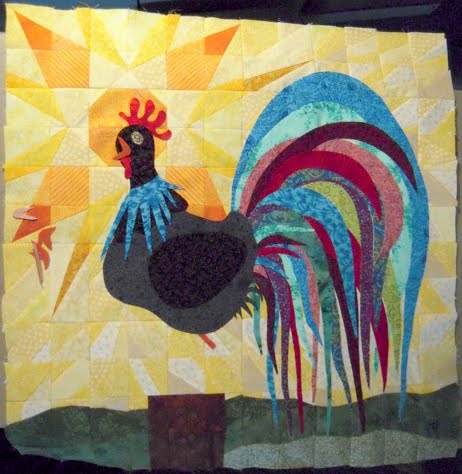 I think it's a great change, it really balances the darker colors of the body and gives the feathers a little more depth.  I'm happy with how the pieces all fit together. They are not totally as planned, but it still worked out great.  They are in place tacked down with a little spray glue.  Next I will be satin stitching all the edges.  Since this is all new to me I still don't know how long it may take ~ but so far this project is exceeding my expectations.  I'm glad I have something fun to listen to while I take this on!