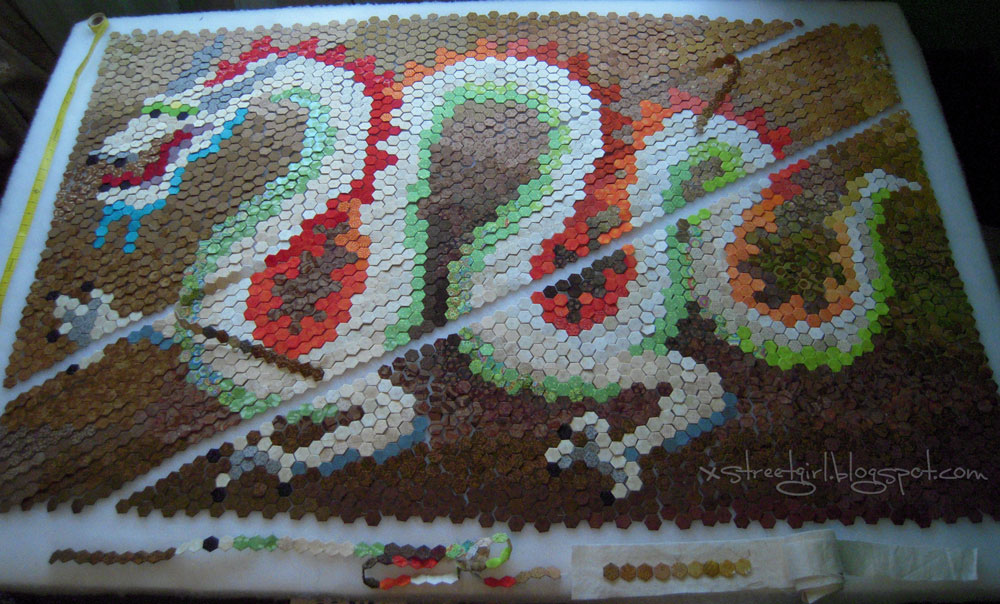 I figured it's about time for a progress report on the Dragon Quilt.  In the picture above you can see the strands of hexies I've finished in the center.  The strand I'm currently working on is at the bottom of the photo. When it's finished I can lay that one back in the bottom opening, and pick up my next strand. 
Using some batting, I roll the hexies to keep them in order when I take it on the road to sew.  I started with the longest strands first, there are 6 that are full from one side to the other. All the other strands start getting shorter from that point. I have 13 strands completed, and I'm going to guess that part is about 1/5 to 1/4 of the way done.
Border color
Right now my contemplation lies in picking out a border color. That way I can get those hexies made and sewn onto the ends of the strands before I start sewing the strands together.  I've had a few people ask me when I think I might finish this quilt, and I honestly don't really know.  My intention is to have the whole top of this quilt sewn together by August. Then I'm thinking about hand-quilting it too ~ and that will take even more time.
Trust me, no one wants to get this completed more than me! My motivation is high, but these things do take time!  This is part of the reason why I'm blogging about it. When it's finished and people say things like "hey… I bet you could sell these,  you could get a couple hundred bucks for something like this!!"  I can laugh in their face and show them this blog.  Hopefully when people see the work that goes into these things, they will re-consider their statements. This is priceless to me.