Wow… time really flies! I've been so busy with work, it's been hard to find time to sew all that I would like. However, I have been diligent in my hand-work on the Dragon Quilt. Here is a quick pic to show how many strips I've finished: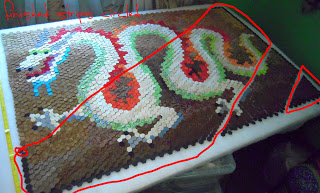 What I have circled in red are finished strips… as you can see, I only have a few more left along the bottom to finish, then I'll be over halfway!!! I finally decided on the MUD color fabric (Michael Miller cotton couture) for the border ~ I am in love with that color and the fabric itself is a dream to work with. After getting some for the border of this quilt, I had the idea to use it with orange and mango and aqua to make this quilt top: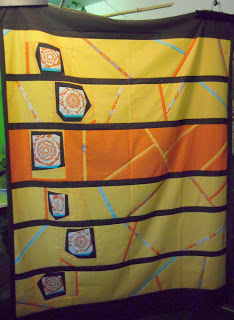 This top was inspired by the improv techniques that Michelle showed us at a PMQG meeting a month or so ago. I really do love just sewing without too much thought. This was a super fun quilt top to make!! Now for a back and some actual quilting ideas ~ Okay… I guess it's time to get busy!