It's been pretty cold here in the Northwest, we just came out of a cold snap where we were in the 20's for about a week.
I have a low immune system, and once I get sick, it can last for a long time. Unfortunately, I caught a head cold last week. Lasted for a few days, then I felt better and I was inspired and designed a new quilt… even picked fabrics for it!
Of course, I over-exerted myself and got sick again. The coughing is the worst, every cough hurts my back so I'm taking a lot of advil these days.
Today I'm feeling good enough to cut some pieces for the new quilt.  I'm calling it "Interwoven". Even though I designed the pattern, I'm terrible at following patterns… so this is a challenge for me. Challenges are good – right?
New Quilt
This one is pretty basic. It will be made up of 36 blocks. All straight lines with a couple paper-pieced squares. It's always interesting making up a pattern, I always wonder what tricks I can use to make it sew up quicker and easier.  Yes. I know I can go online and search millions of ideas and patterns that have already been done. Maybe even find one like mine. However, I really like starting from the beginning and working through solutions on my own.
Another challenge with this quilt is fabric choices. I'm not allowing myself to buy anymore fabric until I get at least 2 quilts made from my existing stash. After moving, I realized I have a lot of fabric… and I just don't have the space to collect too much at a time. Because of this, my quilt colors were chosen for me based on what I had.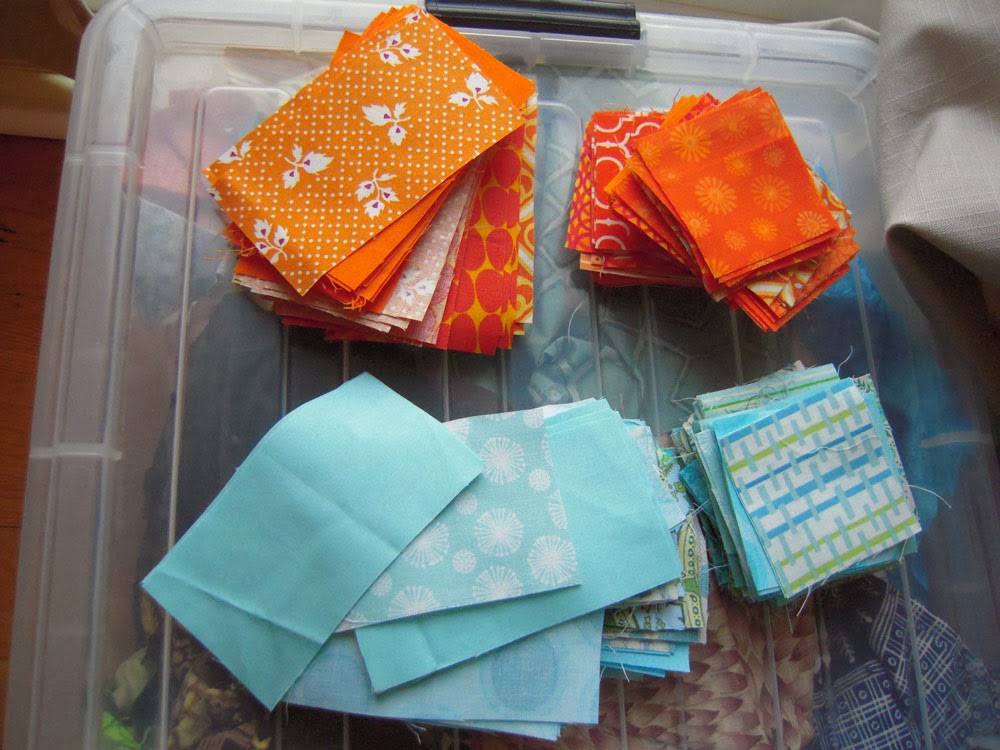 I still have the background fabrics to cut. Then I'm off to the machine to get all these little goodies pieced together. Here's to hoping my cold is over, I'm anxious to sew!!