With the heat wave we have been experiencing here in Portland, it makes it seem like forever since we've seen rain… today there are clouds in the sky, and I am thankful! A little rain would be pretty sweet about now too.
Boy, it seems like an endless summer.
With summer comes our busiest time in our screen printing business. I've been doing a lot of design work and not much sewing – but we all need the work to pay the bills -and buy the fabric, so I'm definitely not complaining! I just don't have as much sewing to share.
Doesn't really help that I've been working on a small quilt for a Game of Thrones themed quilt challenge… and I can't really post that just yet. I'm going a little nuts sitting on this one. I think it's turning out fantastic, and I'm dying to post it! Hopefully I can share in the next month or so.
I did get a much better photo of my Green Cross Quilt. I made it to commemorate the legalization of Cannabis in Oregon: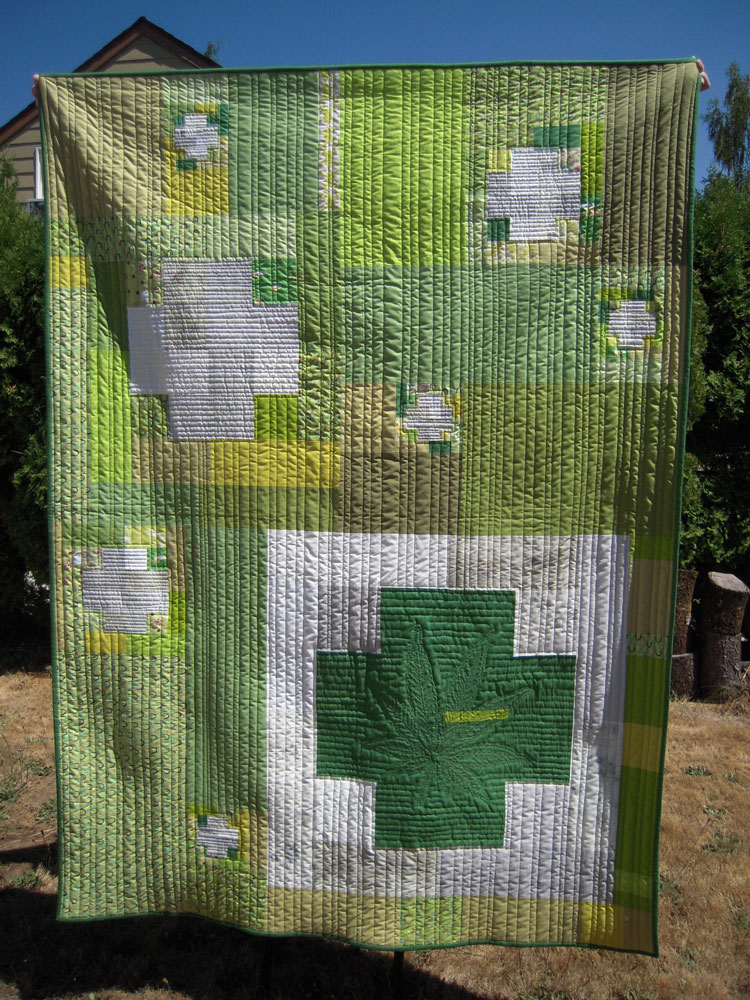 I'm entering it for the PMQG showcase at the Northwest Quilting Expo – I hope it makes the cut! I'm really loving how this quilt turned out… specifically in the small white crosses. My longarm friends will understand:  the channel lock on the longarm was not working in that direction, so those straight lines in the white crosses are all free-hand!! I also hand-quilted everything in the green cross section except the leaf itself.
Now I'm off to do a little more sewing today before the work starts again tomorrow.
How are you spending your Sunday?