I have two quilt finishes to share… the first is a quilt that Gregg made! He's not very big into social media so I'm sharing for him: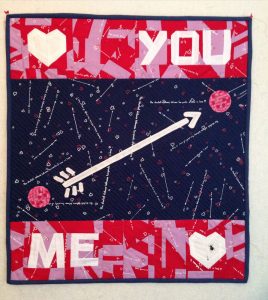 "The Shortest Distance" Quilt made by Gregg Weiss
He's had some time on his hands and decided to get creative. He screen printed on fabric first – thought maybe we could sell hand-printed fabric, but the time spent in printing made it too cost prohibitive. So, I though I'd make a quilt out of his fabric – but he stopped me and said he wanted to try to make a quilt!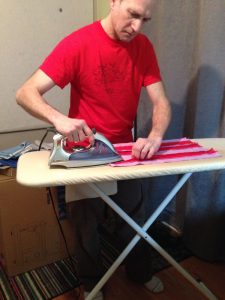 So we set out on a teaching / learning journey together and it's been a blast going over so many different techniques. 
I have the book: "Quilt Talk" by Sam Hunter and he found it and taught himself how to do foundation paper piecing! Then I showed him some improv piecing ideas and let him go to town.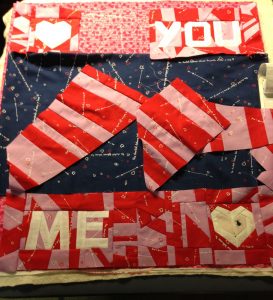 piecing/planning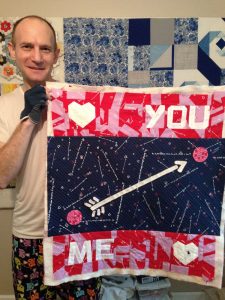 mid-quilting
He even learned quilting and binding. Teaching is rewarding, but can be a little tough… luckily, he's a quick learner!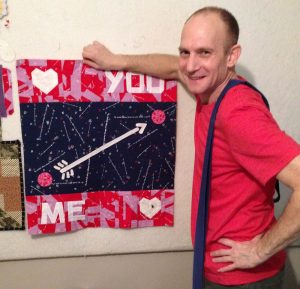 ready for binding
The saying on the fabric is: "The shortest distance between two points of view is love". It was the perfect Valentines project to do together!
While he was busy with this project, I finished a quilt too! It's a commissioned quilt, and I'm a little sad to know it's not staying with me… but it's going to a good home.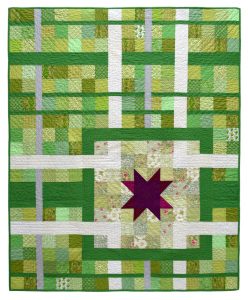 "Green Gardens" by Gail Weiss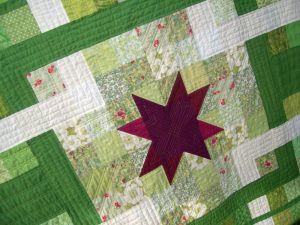 I'm most happy with my 1/4″ seam allowance accuracy on this quilt, and the straight line quilting. I just learned about using rulers – and boy does that make a difference in keeping my lines a little more uniform looking. The pattern came out well too.
Another quilt pattern I made is this one: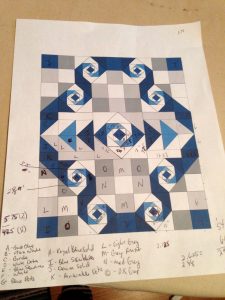 Quilt Pattern – Gail Weiss
…and I've got the top done already: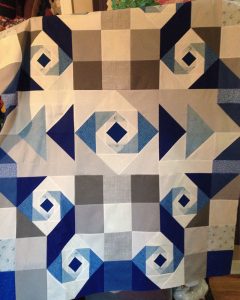 Today I'm piecing a back for this quilt. I made a few mistakes on the front, so I had a few extra blocks and fabric – so I decided to use it all up and make a back.  This is where that's at so far: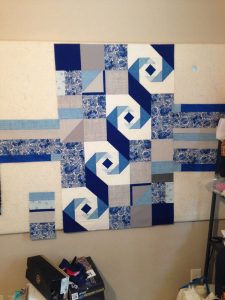 Piecing a Quilt Back
I found a cobalt floral print that goes well with the colors, Im really liking this side too – so I might consider this one a two-sided quilt! I should finish today, and hopefully get the quilt all basted up and ready for quilting. I'm hoping to have this one done for show and tell at our next
PMQG
meeting.
On that note, I'm off! Time to zen out on my favorite hobby. What are you working on today?