Last night we had our yearly PMQG picnic, and I was able to finish a quilt to bring for show and tell. I brought it because I wanted to share a 'frustration' quilt. We all have them from time to time – that quilt idea that never really came to fruition the way you pictured in your mind…
This quilt was started last year, and I have added bits and pieces over time and every time I pull it out to work on it, I became frustrated by my placement choices and would put it away again for a while. I tried working on it a bit every month, but would get irritated by looking at it. Have you ever made a quilt like that?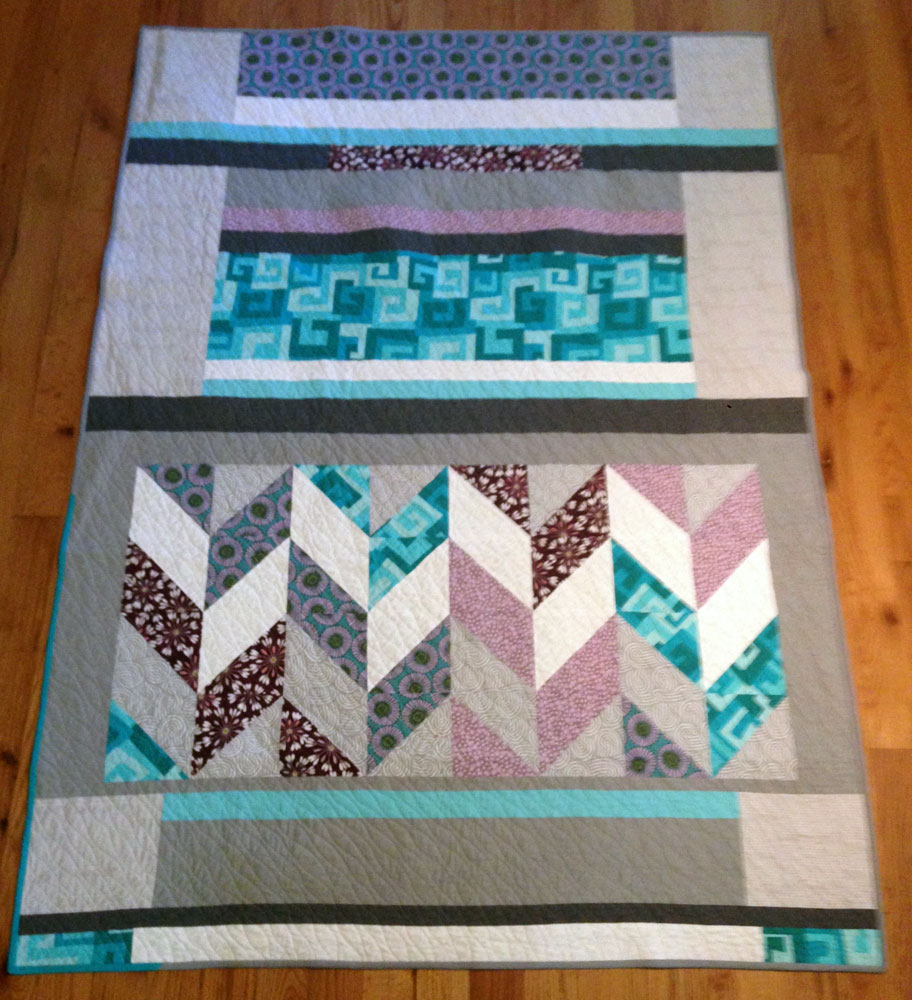 Last month I decided to just get it done already!!  I put it in my mind that it didn't matter how it looks, I'll just use it as a couch quilt anyway.  So I finished the front and used my questionable pieces for the back making a 2-sided quilt, and was very unhappy about it until I started quilting it.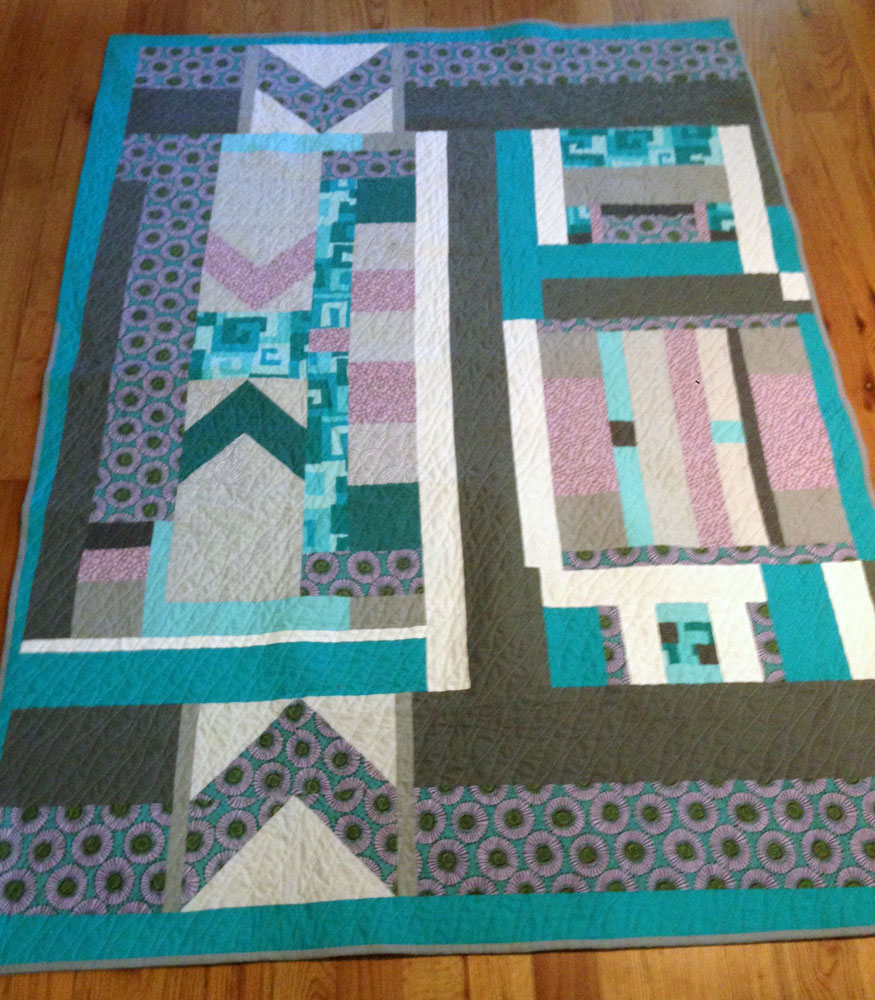 For some reason, quilting this piece, connected me to it and I started to appreciate the work. Once I was finished, I felt it was good enough for show and tell. At our picnic, I received some really nice feedback and now I'm liking it even more. I'm definitely my own worst critic!
Hummingbird Progress
In other news, my hexie hummingbird is coming along nicely! Here is the backside of the piece – showing my stitching work before hiding it forever…
I've finished piecing the bird itself, and took out all the papers. Then appliquéd it onto a backing fabric. I'm in the process of quilting right now, but I wanted to show how I take the papers out of the piece before appliqué.
First I need two important tools: a seam ripper and a wooden BBQ skewer.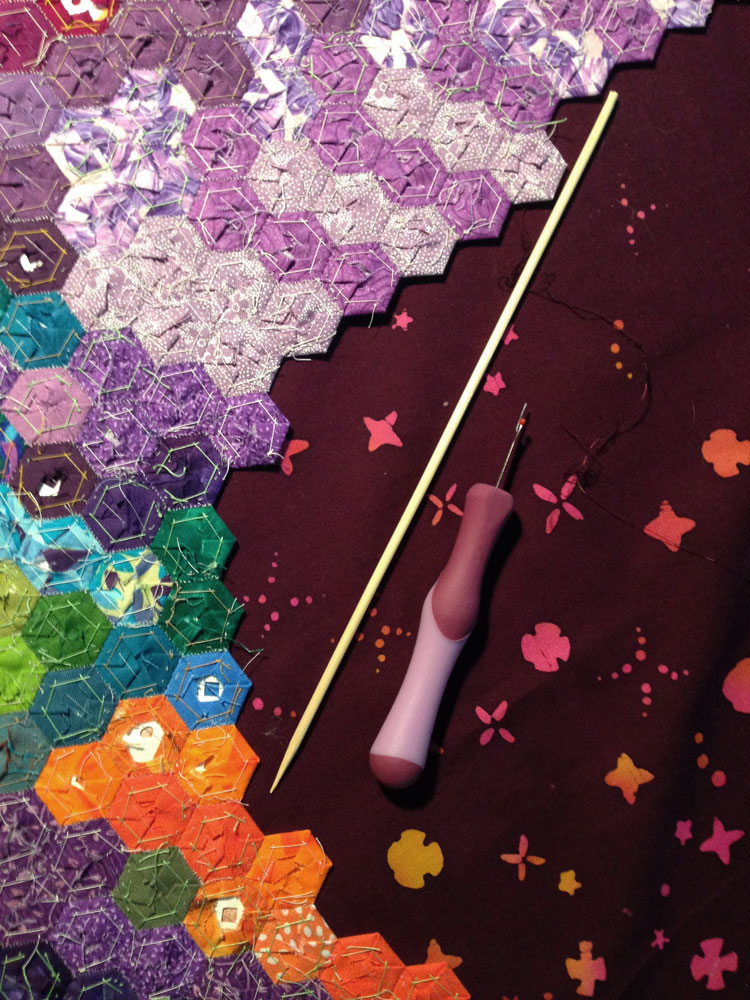 I work in rows so I don't get confused – and I start snipping my basting threads with the seam ripper. I snip once on each hexie, then I use the wooden skewer to pull a basting stitch or two. Then to pop the hexie out: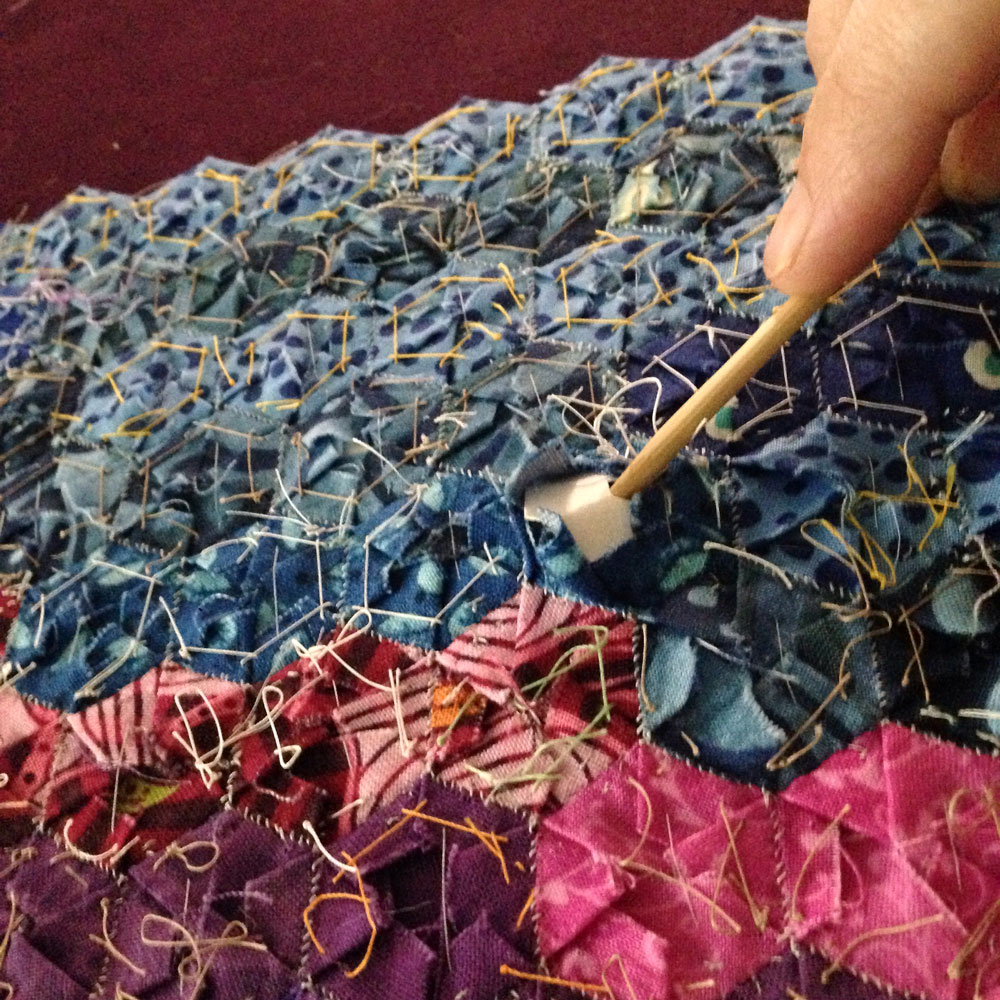 Before I basted the hexies, I punched holes in them for this very purpose. My seam allowances are big and cover the back of my small hexies, so it's very important for easy paper removal. Once they were all removed, I pressed it well. At this point, I'm quilting this piece, and hoping to have it ready for our next guild meeting!