This is a political post – and one I think is extremely important.
After our president gave speeches which supported Nazi movements after the violence in Charlottesville, I felt so frustrated. I was overwhelmed by the numbers of people who are fighting for ethnic cleansing, and by our supposed national leader egging them on. I'm not surprised at all… but definitely disgusted.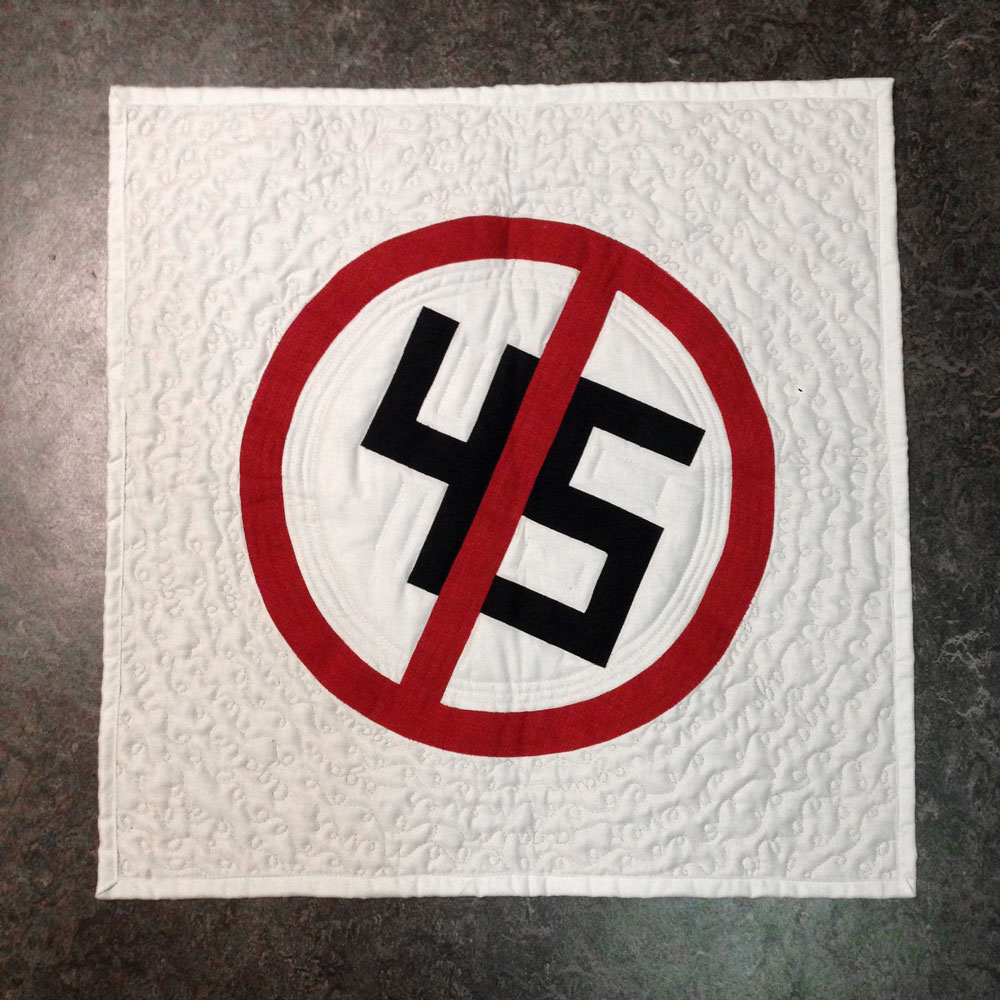 Then 2 days ago I saw an image online that really spoke to me. I kept going back to it all day. I decided I just had to make a quilt of this image… so I did! It's entitled: "Never Again – or – No War, No KKK, No Fascist USA" and I quilted the words: never again all over in the background.
It was cathartic and felt great to do something… even as bitty as making a little quilt. I made it in one day so I could take it to my Portland Modern Quilt Guild meeting last night where it met with great support! (I love my guild!) I posted it on IG and FB and I started getting compliments on the design. Then I realized I need to do due diligence to find the original artist and get approval before trying to enter to shows, …or in case it goes viral.
Luckily for me, a friend knew who created it and I was able to contact him and he gave approval to share as much as I like. His name is Mike Mitchell and is an amazing artist – please go see his work and be supportive. That is one clever guy, and really sweet too. I'm so thankful – I should have asked prior to making it… but I was totally caught up in the moment.
I'm thinking that the ACLU really needs to re-evaluate standing up for fascist movements having free speech. Any speech that pushes the idea ethnic cleansing – should never be protected. When the fight is murder vs. humanity – the lines should be clear and simple. No one should have to fear extermination due to their sexuality, the color of their skin, where they were born, or for what they spiritually believe (unless that belief entails killing others).
To be tolerant of all things – one must never be tolerant of intolerance itself.