So I'm beginning to contemplate my next Chakra Quilt. This time I'm going to be working on the Throat Chakra or Vishuddha.
This is an interesting chakra for me personally because it deals with "speaking out" or communication. I would love to be a public speaker and talk about color and quilting… but I get so nervous that my voice stops working after a short time. I also have so many issues with ears, throat, mouth, and neck… so it's time to spend my creativity exploring this chakra.
The main challenge for this fifth chakra is doubt and negative thinking.
When knowledge is gained through meditation and direct experience, then doubt and negativity are removed. This is something I've been actively working on for a few years, and I have noticed much more positivity in my world because of it.
The throat chakra is symbolized as blue/turquoise in color, and has 16 petals with an inverted pyramid, within a circle. Lots of visuals to work with, but I'm still struggling with a layout idea.
My fabric pull for this so far: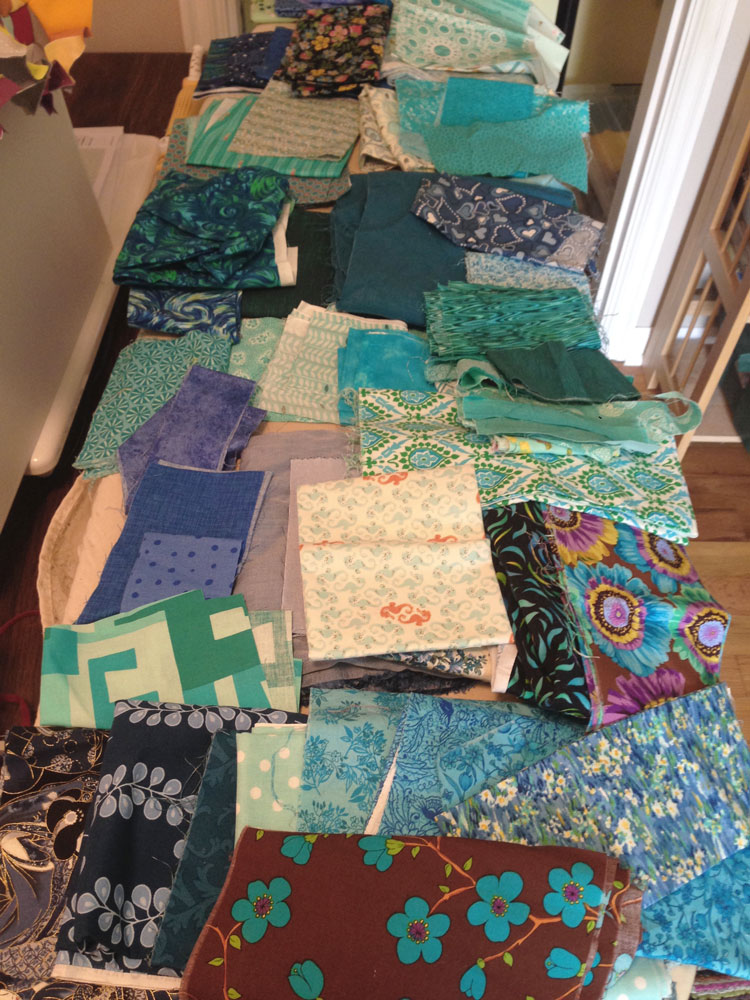 This constitutes pretty much ALL of my blue fabrics from my stash… I'm pretty set on trying to use all of them in this quilt, and to make them play nicely together – it will be a challenge. I think once I come up with a good layout idea, this is going to flow really well!
This is the mantra that goes with Vishuddha – what I will be repeating as I work on this:
• I speak my truth and honor my commitment to it.
• I express myself as honestly as I can.
• I share feelings with ease and comfort.
• I live from my integrity.
• I communicate what is so for me without projecting my truth onto others.
• I express myself as creatively as possible.
• I listen to my inner truth.
I want to share my gratitude to the few followers I have who read my posts. Positive feedback is what fuels me – even if it's critical! I love it, so I really do appreciate that you are here right now. Thanks!
… and if there is anything you'd like to read about, let me know – I'm open for ideas on content. 😉