I've been working a lot lately which leaves little room for writing. Not just work work, but emotional healing work too. I've been getting close to finishing the top of my Vishuddha Quilt. It's turning out pretty good, and how I feel when I look at it. 
We watched Leah Remini: The Jehovah's Witnesses last night. It aired on A&E and is probably still accessible, and if you're interested in what the JW's are all about – this is an excellent program. It touched on all the main problems I have with that religion, and the control it has over its followers. Seeing video of that lifestyle, and those speakers stimulated all sorts of memories. It's still hard… and I really don't want to think about it much anymore, but there are some real feelings there that I need to address. What makes it hard to work through is that most people you might talk to have no idea what it was like growing up in that environment, they don't have any real advice on how to recover.
Normal
I've been wanting to just 'be normal' and enjoy being around people. Unfortunately, I get overwhelmed so easily, so in groups I have a hard time focusing on one-on-one conversations. My anxiety hasn't been that bad lately – and for that I am so grateful!!  The issue that's bugging me now is just how tired I get all the time. I feel like I can't get enough sleep… and when I eat, I have to be ready to nap – because when my body is digesting, I have no energy at all. This makes me super spacey and it's hard to get focused on any project… or on any conversations.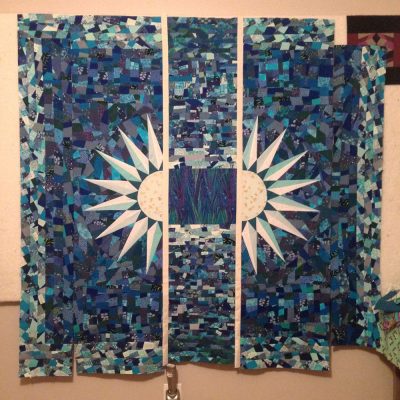 So I've been working on the Throat Chakra quilt and letting all this emotional crap work itself out while I'm sewing. I have been tears and shouting with frustration and anger and love and more frustration while working on this. It's a personal piece. It is me. How many times have I cut myself apart and put the pieces back together hoping something different would come of it? Too many times to count. Every time being necessary.