This last month has been brutal. Especially being a woman in the United States. Debilitating emotion overwhelms creativity. You have to fight hard for your creative self.
I've been working a lot (Phantom Chicken) and that has been great. I really enjoy being able to pay bills! The work has me busy through lots of off hours which has put a stop to my sewing time. I'm also using work as an excuse for just not knowing how or what to do next to get this quilt to look like how it is in my head. I keep looking at it on the design wall, but the math is stumping me.
I decided to make the triangle shapes I want to use, lay them out on the design wall, and just fill in the empty spaces as I go.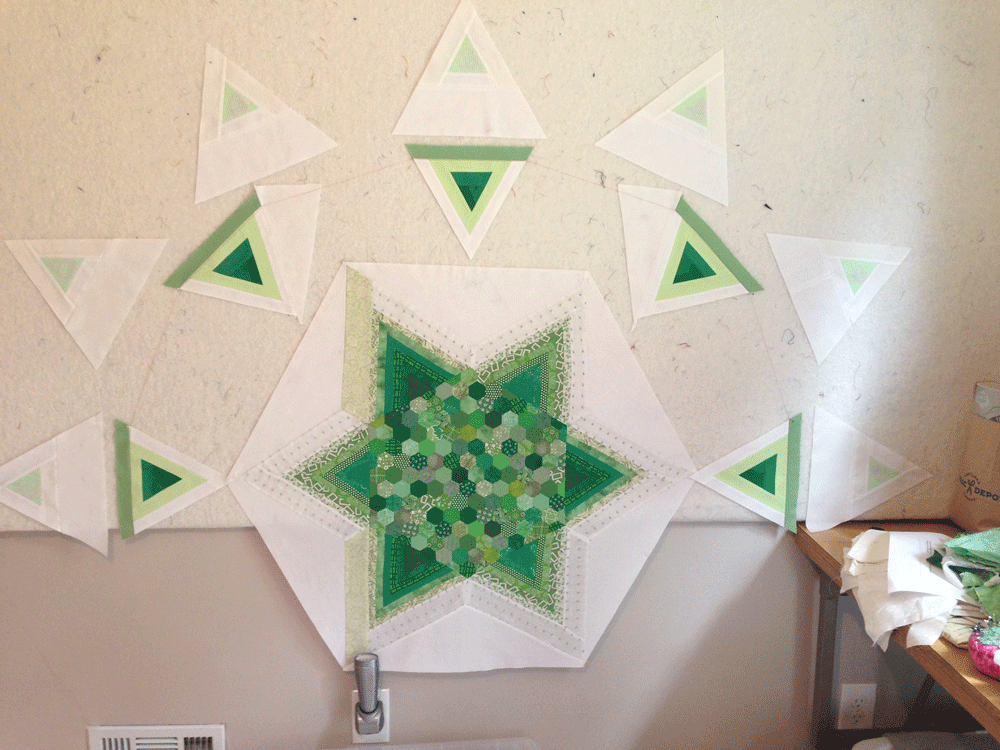 The Heart Chakra has many symbols, I'm gleaning and reinterpreting the ones that resonate with me personally as I'm making this quilt for my own healing purposes.
I'm learning as much as I can as I go along in this project. I'm finding that there are many different ways to 'see' the symbology of each Chakra. The best thing I've read so far was "The Chakra systems are prescriptive, not descriptive" – Chris Wallis
There are 12 outer (white) triangles that represent the 12 Vrittas of the Heart we want to quell or sooth.
Fraud
Lustfulness
Indecision
Hope
Anxiety
Repentance
Possessiveness
Incompetence
Discrimination
Impartiality
Arrogance
Defiance
Imagine these emotions creating a whirlpool of thoughts in your mind (busy – non stop). The point of meditating on these 12 white lotus petals is settle or lessen these 'vritties' to create a calm stillness of the mind, much like a calm, still pool of water.
The 8 inner (green) triangles are representative of the smaller Hrit Chakra, also in the heart region. Those represent the feelings of the heart: Resolution, Atomization, Lightness, Largeness, Attaining, Irresistible Will, Control, Mastery
I haven't found much information on this smaller Chakra, but I liked the idea of the two rounds of triangles to represent the lotus flowers of each heart related Chakra. I have all these ideas, but I'm having problems making a decision, so I've been creatively blocked for a bit.
I'm pushing through this one. As I study and think about the Vrittas, it seems to me that Hope and Repentance are things I used to think of as virtuous, now I'm starting to see them in a negative light. Hope is fantasy – it allows a person to be inactive. Repentance is a way to get out of responsibility. The others are much more understandable.
For this quilt, I'm trying (with difficulty) to create nice, even circles out of the triangles – it's a lot harder than I thought it would be.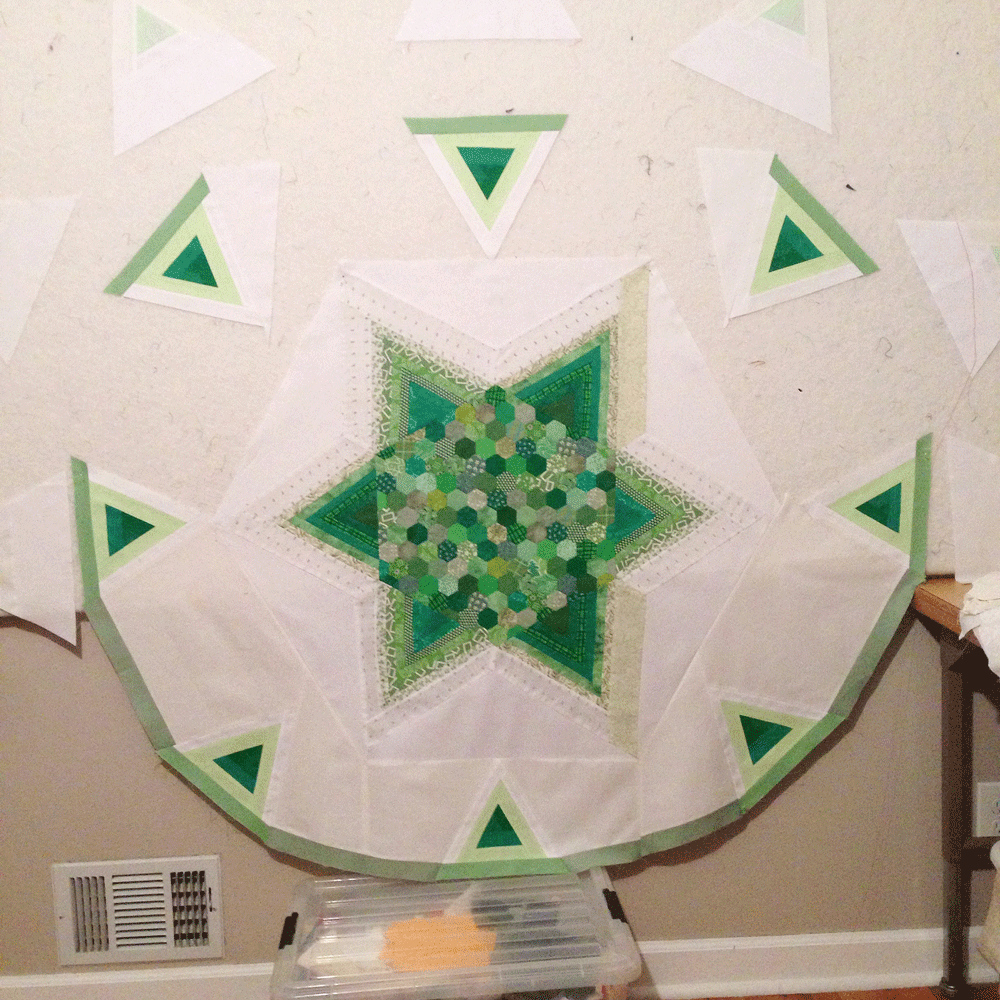 The white triangles on the outer round will be surrounded with many greens. When I was making the white triangles, I found this sweet white fabric in my stash. When I posted the photo below on IG, my friend Nicole let me know it is called: Dotted Swiss. If it wasn't for quilty friends, I would be lost. ;) It is a very sheer fabric. I didn't think it would do well on its own in a quilt, so I backed it with this old neon green fabric I've had forever… then I realized I was making a pocket of sorts, and added silver embroidery threads in each triangle. I feel like this represents the goodness one can attain by calming the Vritties of the mind.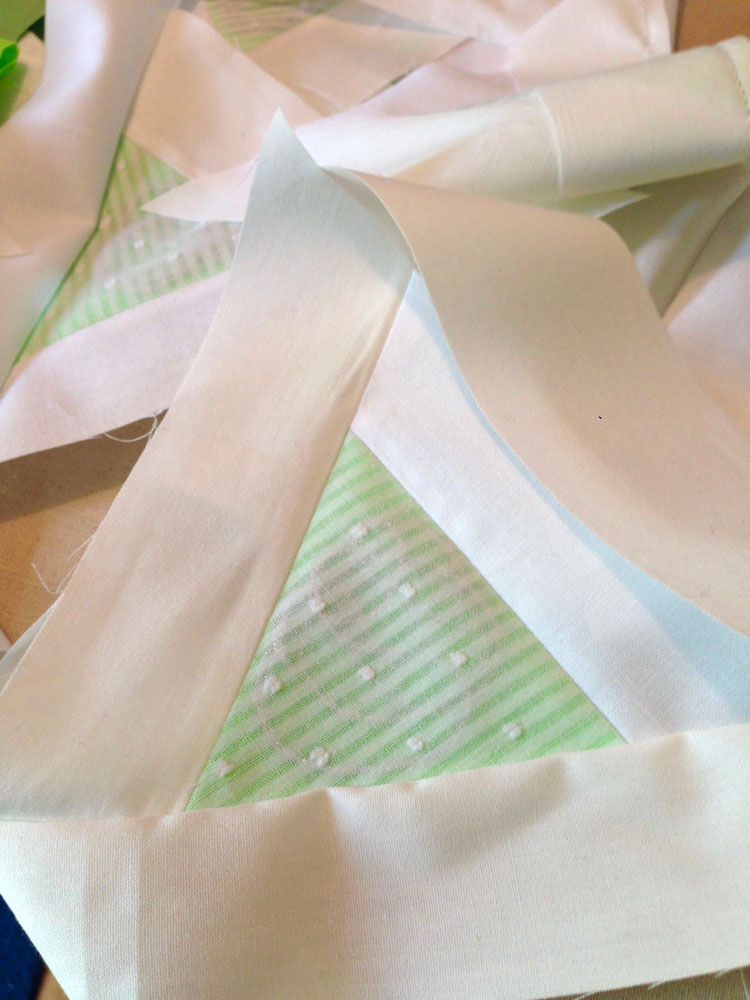 The best part right now is that I've been able to sew a little every day for the last few days – I'm not fully stumped and afraid to cut fabric anymore. I've been meditating and doing yoga nightly – and trying to resonate with all that I've been learning. This is in direct opposition to the world right now where everything is seeming to be competitive, hateful, selfish, and willfully ignorant. The clash is draining mentally… and I know I'm not the only one feeling this way right now.
I am very grateful to have the ability (physically, financially, and time) to sew!