There is a lot going on in the world right now with the Coronavirus and global markets declining because of it. I'm deciding to just work through it. I'm staying in, because my immune system has been running low. Luckily, I work from home so it's not a big issue.
New Collaboration:
I'm working with Sam Hunter again. Her website is Hunter's Design Studio and she's an amazing quilt maker, artist, and designer. Currently we are running a Pre-Order Shirt Sale of one of her quilt-related designs: "Think Outside The Block". It will run until March 25, at 11:59pm.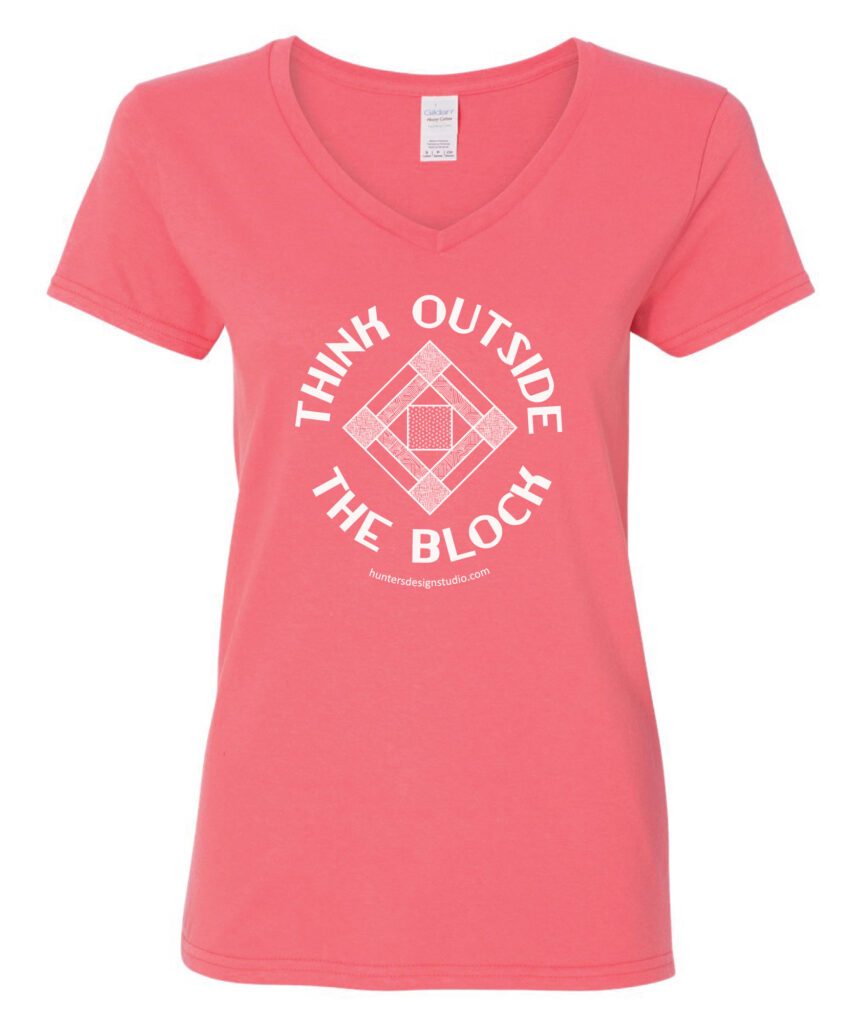 We enjoy running these Pre-Orders, it's one way we can support other artists, like Sam, and dabble in some retail sales ventures. It also is good advertising for our screen printing business: Phantom Chicken.
There's been a learning curve for me to picking shirt styles. In the last Pre-Order, we offered 'ladies' style shirts – and even though we list sizes with each item, everyone who ordered one complained about sizing. So this time around we are only offering Women's style shirts, which still are smaller than unisex… but much closer to actual people size.
Sacral Chakra Quilt Progress
Another big project I'm working on is the Sacral Chakra Quilt. It has not been easy. During this project I'm also doing a lot of digestive research to help heal my tummy. I think they are connected. Even though the Sacral Chakra is more about creativity and sexuality, I feel my guts are in the same area, and that this energy center can affect digestion too.
I've been delaying writing about this because it relates closely to my health, and my health has been a source of deep stress personally. I have some low bloodwork levels no matter how much I suppliment and eat whole foods. I even blacked out once, and I think it was an anemic reaction. It sort of scared me, so I've been studying a lot. Mostly about SIBO (small intestine bacterial overgrowth) and the Microbiome. I just watched a very interesting video about new gut research that is super intriguing.
I just have not been feeling very well recently. The last few months I've had some symptoms that are concerning, most of which are bowel-related. Nausea is a constant, so are headaches and tinnitus… and sometimes I just feel like I'm moving through cement, I'm so weak.
So my mantra with this quilt is: "I am radiant and strong. I enjoy a healthy, passionate life. I am healing myself creatively."
I'm also scheduled to meet with my doctor next week, and hopefully I'll get a better handle on what's going on. In the meantime, I'm continuing my work on this quilt and hoping to get through it a little faster than it's been going so far.
Kitty News
We lost our beautiful Mr. Kitty Karryall around the holidays this year and it was heartbreaking. He was our only pet and the house has been so empty without him.
The discussion to get a new kitty (or two) kept coming up, but my husband was in grieving mode, and just not ready. Then a friend posted about a kitty her family has had for a while, that they needed to rehome. Only because this kitty likes to play hard and has very sharp nails and teeth… and they have young children.
So I made contact and she offered to bring the kitty over to our house for a meet and greet to see if he might be a good fit for us. My husband made up his mind as soon as he saw the kitty in the carrier coming up to the door… he was going to be ours!
He came as Tom Tom Clancy, but we may change it up to: Kitty Corona Blue.
I'm very happy to have this new furry little beastie share our space! It's the best medicine for my emotions.