I'm finally making progress on my Third Eye Chakra Quilt project. I have had a rough couple of weeks due to some vertigo and its accompanying depression. Nothing like feeling like the world is trying to spin you off of it while you try to do anything.
What I have done so far is the math for how many squares that will show that I'll need vs. how many that will be under the wedge half circles and will not be seen. I also got all my squares pressed and cut.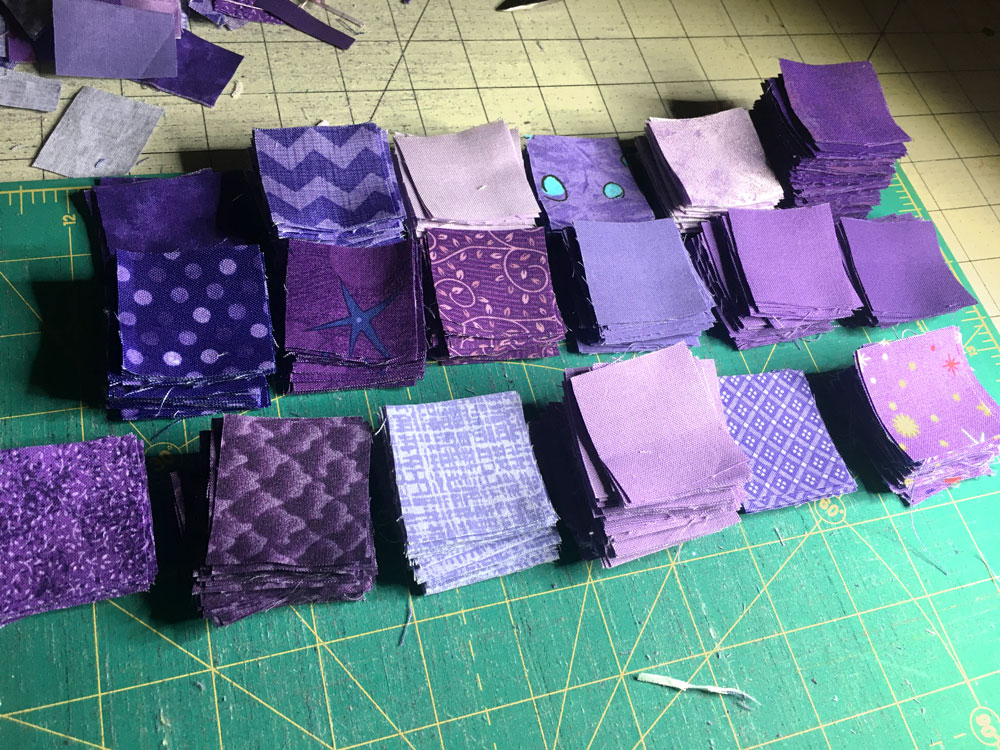 I would have preferred to have more purple fabrics to make the background look very random… but this will do. The next step is to create 4″ x 4″ blocks, then 8″ x 8″ blocks and work my way up to the full quilt size of 64″ x 64″.
Because of the dizzyness, I had a hard time making progress on the cutting. Took days instead of hours. Everything has been taking me longer to do. That is the depression part of all this. Nothing like feeling held back by your own body to make you feel a little sad. Especially after feeling so good only a few months back!
I did try a new recipe this week that I'm pretty happy about: Gluten Free Bagels!!
These are made with Bob's Red Mill 1 to 1 GF flour, oat flour, and psyllium husk powder – along with the usual ingredients. Even boiled them in water a few seconds before baking. SO GOOD! My husband has been making kick ass hummus too – all the way from soaking beans and roasting the garlic himself. I can have one bagel every other day – the starches in the flour are too much for me to have on a daily basis.
I have also been spending lots of time with our Taz Kitty.
He has been getting so much better since we got him in March. I can now pet him without being attacked… and he's starting to come up onto my lap to sit!! There is nothing like the love of a furball to make you feel a whole lot better about everything. Am I right?