I have been spending a lot of time updating both this site and also my quilt patterns in the last few months. Staying home isn't so different from my normal life, since we work from our home studio printing shirts. However, the amount of work coming in has certainly changed.
Since I have more time but less income, I'm taking some online courses in SEO and updating this site. I've been writing here for over ten years. The blog has moved to different platforms and is now on WordPress. Due to all the changes over the years, the site got messy and had bad links and missing pages everywhere. I fixed it up pretty good, but there are still issues with loading time. It's amazing how much there is to do on the backside of a website to keep it working well. Thanks for your patience!
Pattern Updates
The updating work I'm most excited about is for my quilt patterns! I've been feeling a little better, so my brain is actually functioning better than it was when I first wrote some of those patterns. I've been putting it off for a while, but finally opened those files and found I really enjoy this work.
I like the challenge of the math, making illustrations, and laying it out so someone else might be able to understand it. To this end, I learned that formatting text properly is very helpful to the reader. The two main offenders in pattern writing is in fractions, and the "x" multiplication symbol used in dimensions.
Adobe Illustrator is the program I use for just about everything, including pattern making. In Illustrator, to create the correct text format, you would use the glyph panel. To do this you put your cursor over the text you want to change, go to the glyph panel (from top menu bar: windows > type > glyphs), and find the appropriate symbol.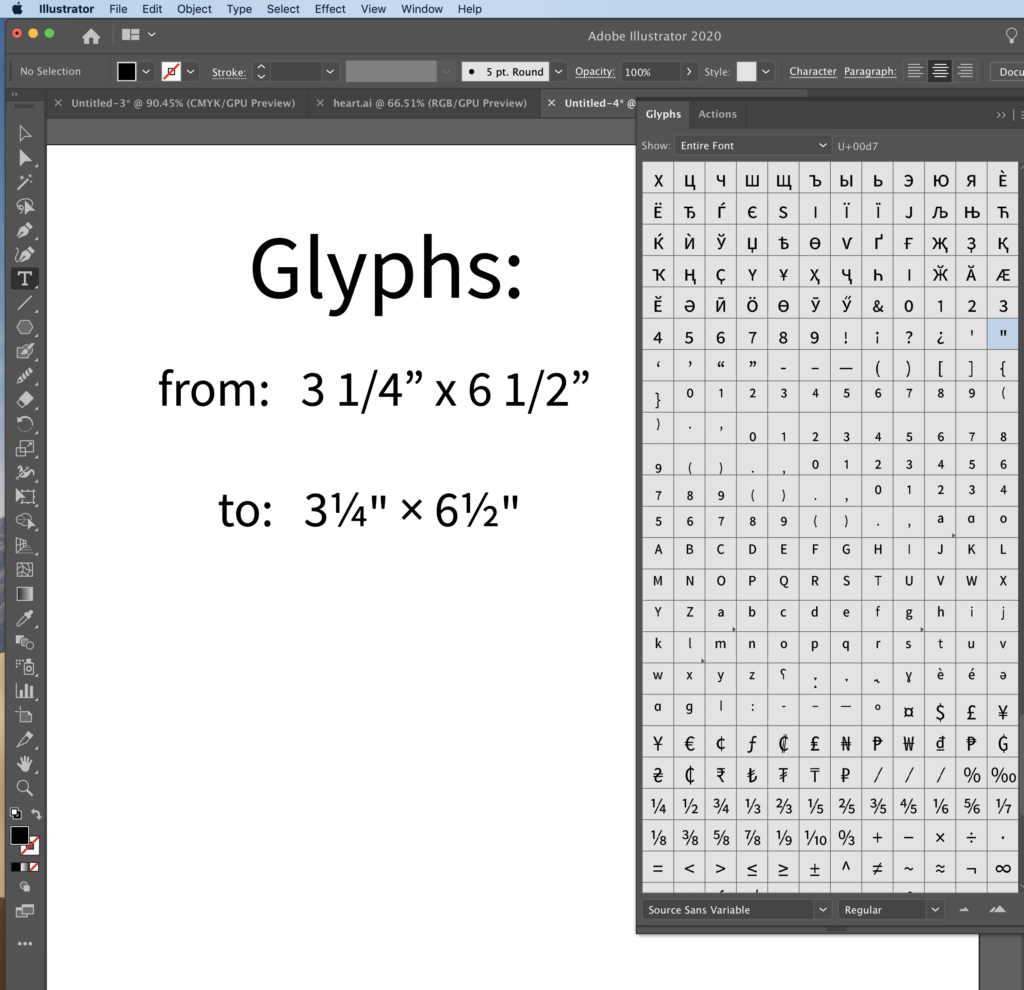 I use the font Source Sans Variable, and it has a large glyph menu to choose from. In the picture above you can see how good formatting can make it easier to read. Of course, this is something new for me, so some of the pattern updates need to be updated a little further to include these changes.
So… that's what I'm working on today, how about you? Do you have a 'Covid-project' to keep you busy? One fun thing to do is to check out some of the other blogs that are also doing the 31 Day Blog Writing Challenge this year.
All for now – Happy Quilting!