Recently I did some maintenance and updating on this site, and realized I never posted the big news! My quilt: Fairly Isleish was juried into QuiltCon this year!! I worked very hard on that quilt and made it knowing that I was going to enter it into this show. So it is extremely satisfying, after years of trying, to get a quilt into QuiltCon.
The quilt show is soon: this coming weekend of Feb 23. Unfortunately I won't be able to make the trip. I have been working on health issues and my biggest 'goal' is to be able to travel sans nausea and exhaustion. I'm hoping that travel will be in my future soon. I could complain a bit here, but I won't.
If you're not a quilter, you might have never even heard of QuiltCon, but as you may have guessed, it's a big convention of quilting, specifically: modern quilting. I was part of my local guild since 2010. Ever since the national group formed in 2013, I've been trying to get into one of these shows. The rejections were hard for me to deal with because of other past issues I have. They set off a reactionary emotional rollercoaster that had me questioning myself and everything about my quilting. That's a post for another time.
Making The Fairly Isleish Quilt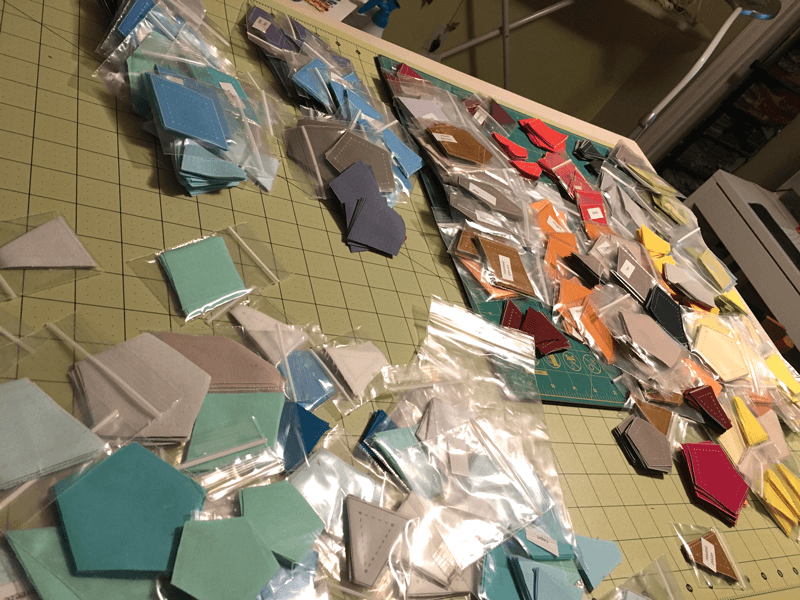 Making the Fairly Isleish quilt was very therapeutic for me. I created the layout and color choices on Adobe Illustrator based on pieces I already had (leftover from the Kaleidoscope Quilt). It always feels good to use what you have and not buy more. There is a digital EPP pattern available I made for this quilt in my store, if you're interested in trying it yourself.
I pieced the whole thing by hand using 2,897 solid color pieces – 5 different shapes. The same shapes as La Passacaglia quilts are made from (if you're familiar). There are 43 different Kona Solid fabric colors. These shapes are usually pieced using EPP (English Paper Piecing), but I used a different technique. I had the cut and stitch lines screen printed onto the back of my fabric pieces. I used a running stitch to piece these – no papers needed.
The top is appliquéd to the side strips, and the top and bottom strips are machine pieced. I used my domestic Juki 2010Q to do all the free motion quilting, and I matched as many thread colors as I could.
I started this quilt in December 2021 and finished the whole quilt by October 2022 – just in time to enter QuiltCon!
Big Quilt Finish
Here it is! If you're at QuiltCon this weekend and find my blog – Welcome!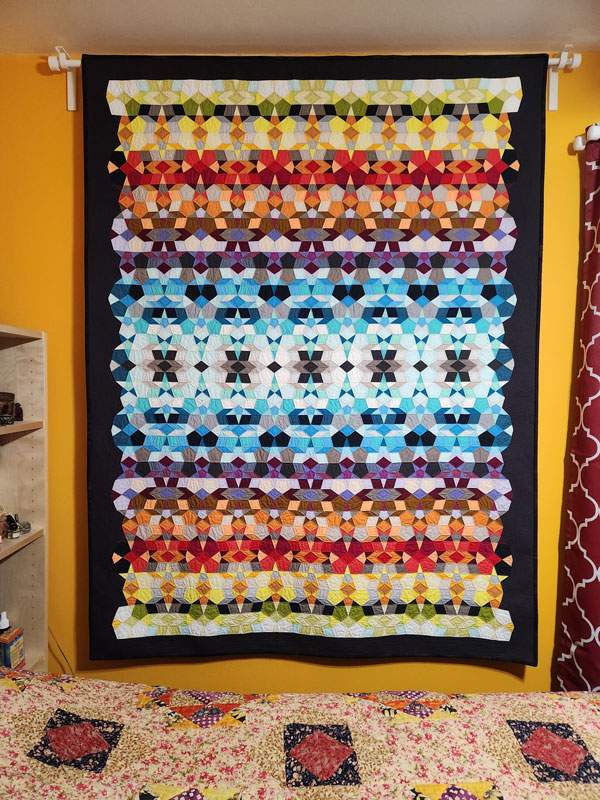 I feel honored to have a quilt show there, and I am equally proud of my work. One thing I strive for is not letting my perfectionism get to me. I purposely leave the mistakes I find, even if I can fix them. It's a practice of letting go.
In this quilt, there is one piecing mistake and one piece left unquilted. I keep wondering if someone will catch it before I clue them into it being there in the first place! You can't tell the quilting error from photos, but you might be able to spot the piecing error. Drop a line if you do!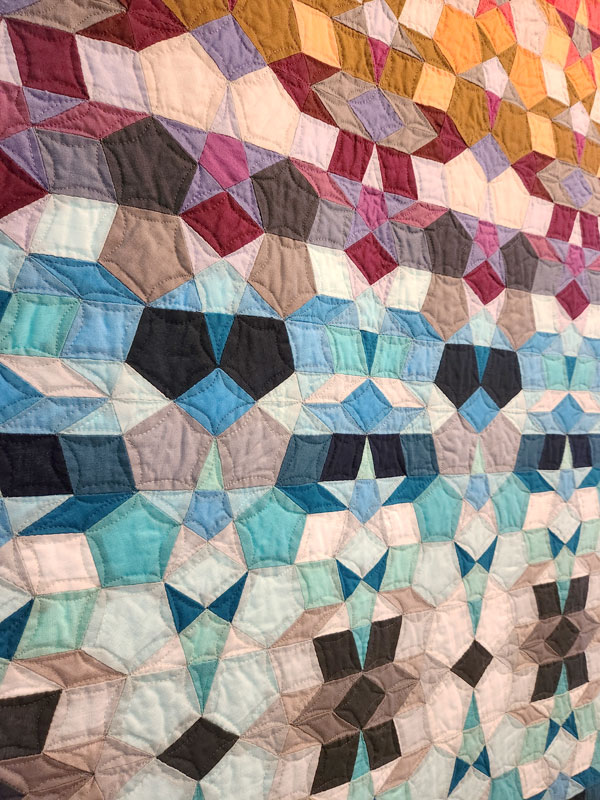 New Project ???
Currently I have a few projects I'm making big decisions on. I joined PMQG for my 13th year and decided I want to be more involved creatively. So I plan on doing their Block of the Month project as well as a rainbow fabric challenge mini quilt. I'll be posting about those as I start making.
The bigger project is a PWYW (Pay What You Want) mini wall quilt situation. I've been following Victoria van der Laan, and she has been doing this with her artistic 'fabric paintings'. I love the idea of making accessible artwork, and I want to push my skillsets a bit more. Since I still deal with health issues that can impede my thinking ability and energy levels, I need to start slow. Instead of a once-a-day type of thing, I'm going to try a once-a-week abstract mini quilt. One day of the week will highlight a different part of the quilt making process. Design, Pattern, Stitch, Quilt & Reflect. I will describe more of this project in my next post. Until then:
Happy Quilting!