There is so much going on lately that I have been really enjoying my quilting time. It's so meditative – from the design part all the way to the actual quilting, and binding too. Working with fabric also does something for my sensory needs which helps keep me from escaping with negative addictions. It's a nice way to "get away from it all".
I recently finished a brand new quilt! It's super busy and crazy looking. That's because it's a total scrap quilt – I only used left over pieces from other projects.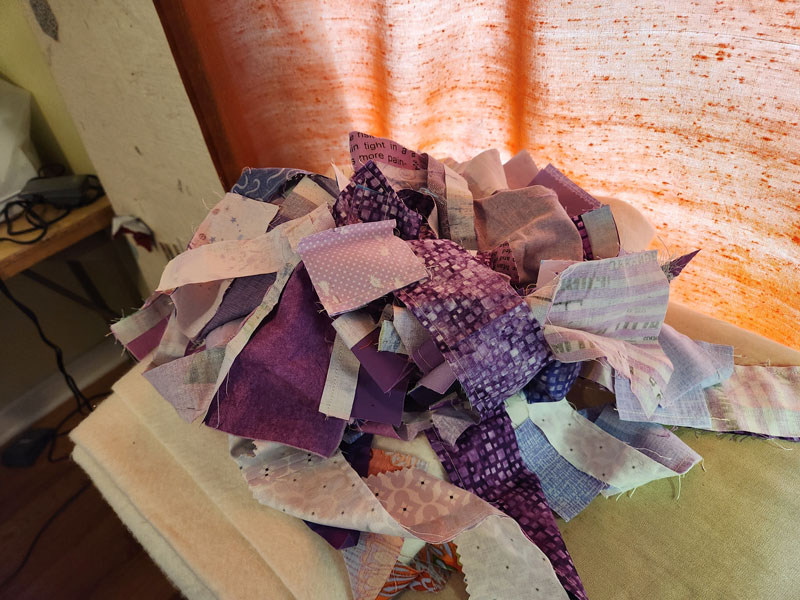 Sometimes you just need to sew. There's no time to make a plan or design something. When that happens to me, I just start sewing scraps together. Some blocks I had made a while back, or were bits from another quilt, and didn't use them: my orphan blocks.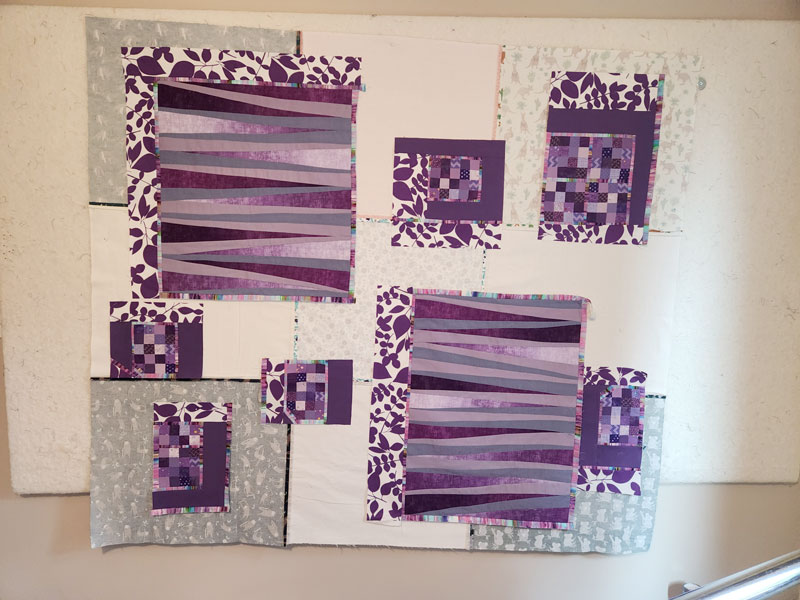 Piecing process
The piecing for this got messy real quick. One big lesson I learned in this project is that it might be good to pick a neutral color-way to add some balance. The more I stitched these purple bits together, the more I was disliking it.
By the time I had the quilt top big enough to cover the flannel quilt back, I was ready to cut it up all over and try again. But I didn't wan't to spend the time or waste fabric, so I decided to quilt it like a big flower. I started in one small solid purple section and worked around and around and out from there.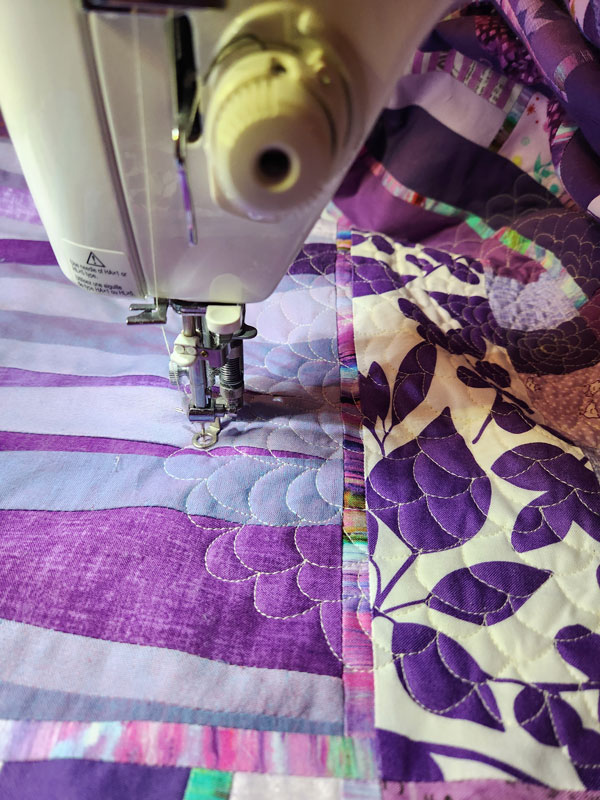 This took a bit of time to do. Free motion quilting just means using a regular sewing machine while the feed dogs are disengaged so you can move the quilt around in different directions while sewing. This is basically a "U" shape over and over. Also kind of looks like scales.
I also used a flannel backing I made out of fat quarters. The fabrics have anteaters, sloths, koalas, and kangaroos – so fun! … and SOFT! I love how this quilt feels already and I haven't even washed it yet. However, it was harder to quilt. It just didn't move as smoothly.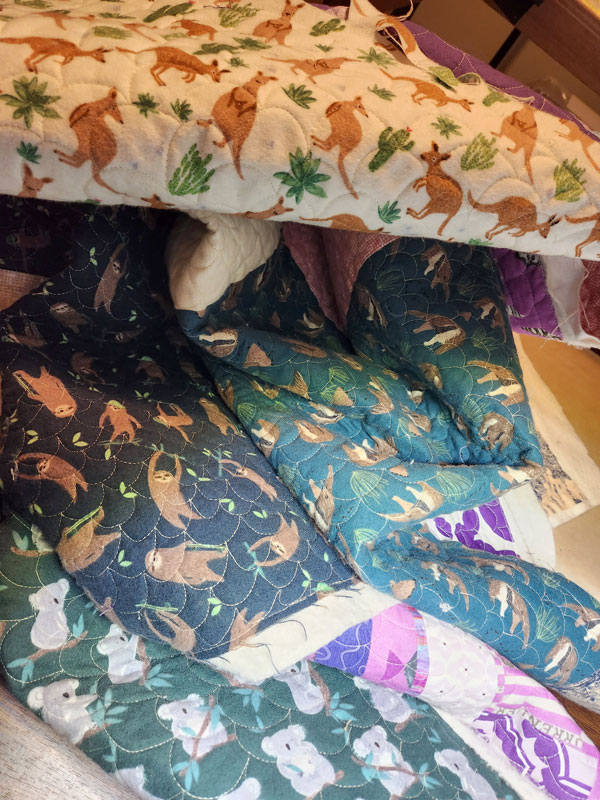 In the end, I'm really happy with how it turned out! It is 50″ wide x 61″ tall. It will be a great couch quilt – great for snuggling under. I named it "Purple Jungle" in part for the tv show Monk. If you've seen it, I think you'll get the name.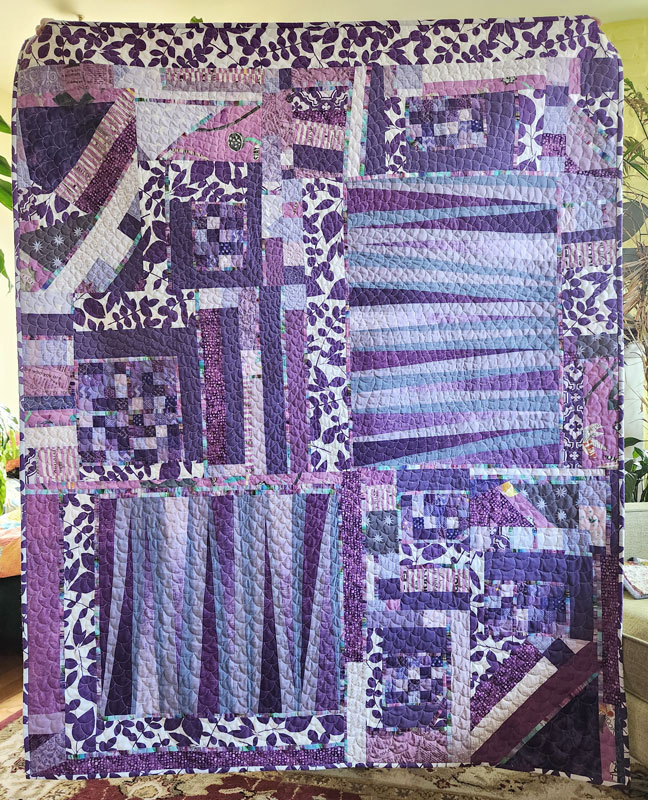 The quilting is much more visible on the back: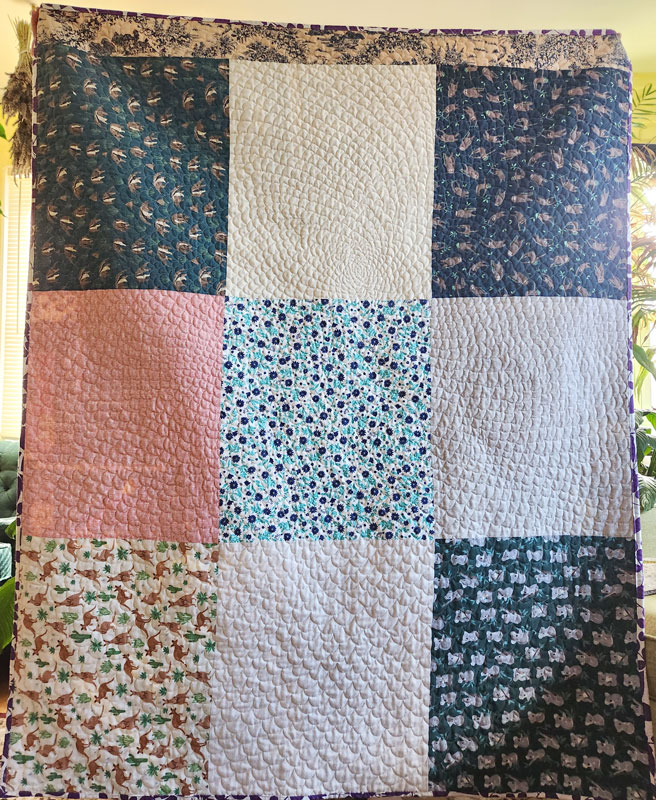 New Quilting Project
So, I've been spending a lot of time being concerned about finances. I try not to do that, but with all the inflation out there – it's hard to keep up, and that starts to stress me out. Accordingly, stress leads to anxiety and other negative feelings. A new added life cost are the iron infusions I've been needing. They are about $800 each with my insurance, so I tend to put it off when I shouldn't. Low iron affects my energy levels by about 85-90% – this makes me so tired and totally unproductive.
My goal with this new quilt project is to cover some health costs so I can continue to have the energy to create. Plus I have an idea that I really want to try! I just set up a Buy Me a Coffee page that will hopefully grow as I get this all set up.
The idea is to use an inspiration photo to choose fabric colors and general shapes for an abstract mini quilt. I was going try a daily thing, but I think that's too much for me to commit to at the moment, so instead I'm going to make one a week. From concept, to quilted finished piece each week. I plan to offer every other one as a PWYW (Pay What You Want) project. More on all this in my next post.
Till then, Happy Quilting!