Do you remember my Thread & Fabric Compositions? Earlier this year I started this textile art project, and now I'm getting back to it!
I had to put it on hold for a bit. The original plan was to create free artwork so that I could create freely. Meaning: I could make things without ending up with more stuff but I'm the one collecting them.
I'm not getting much response and I believe that is because I'm not very good on the social media platforms. When it comes to marketing, it is something I very much dislike doing. The one thing I know about myself is that my projects and inspirations change frequently… too much to try to 'brand' my work. Makes me feel a bit uncomfortable to market my own work.
How It Works – Pay What You Wish
My approach to sharing this art is a little different than before. I want to share the process of making them – there's no sales in that part… just sharing what I like to do. I have 26 frames and shipping boxes – and so that's how many I will create. Sharing my process of making is also sharing a bit of my emotional journey since quilting is like therapy for me.
I'm going to work on one piece at a time. They are numbered and my next one will be No.14. When I get it finished, I will post on Instagram with the hashtag #tafcomps. Because I don't want to equate my work with money, this will continue to be a Pay What You Wish thing.
How it works is: after I post, anyone who is attracted to the T&F Comp can make any offer over $10 via Direct Message (DM). Ten bucks covers the shipping (US), but beyond that, I'm willing to give these away. I love the idea of making art that anyone can afford.
If I get more than one offer in 24 hours after posting, I'll choose someone's offer via random wheel generator. I'll send that person a PayPal.Me link where the payment of the offer can be made. I'll ship it out the next business day.
Social Anxiety
I hope I can make artwork that speaks to people. I think a big part of that is sharing the stories or thoughts behind the work. So while I know it's important, it does make me a bit anxious to be more open. I don't want to share too much… and that's because I do have issues with oversharing – just to 'trying to explain my unique perspective'.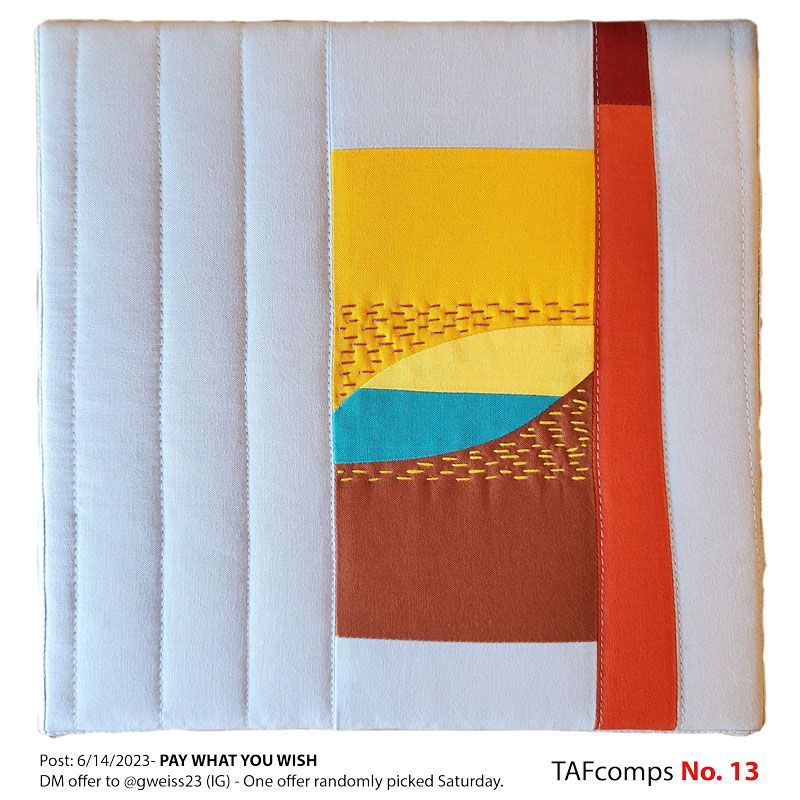 My quilt guild had a meeting the other night and I went, and it was great to see people in real life. But when I talk to people I feel like I overshare and that makes people uncomfortable. Sometimes I say something political or religious and I know that I can swear a lot too and that can be offensive to some. Anyway, I've been going over the whole night in my head with harsh self judgements and embarrassments that might or might not be all in my head. Anyone else like that?
At the meeting I showed my two Treaded quilts and did pretty good talking for a little bit. However, once my voice started shaking, my mind spun out and the words just didn't come to me properly after that. I don't know if I even made any sense. That social anxiety also gets the perimenopausal sweat pumping in high gear! I think I nearly soaked my clothes – so embarrassing. I'll be posting finished pics of those two quilts in my next post!
Do you ever question everything you do in public?? Stay up for hours worrying about it?? I hope I'm not the only one! I'm sure it was worse in my mind than in reality – but still.