I was able to get a good photo of my Manipura quilt this week and I'm so thrilled with the results!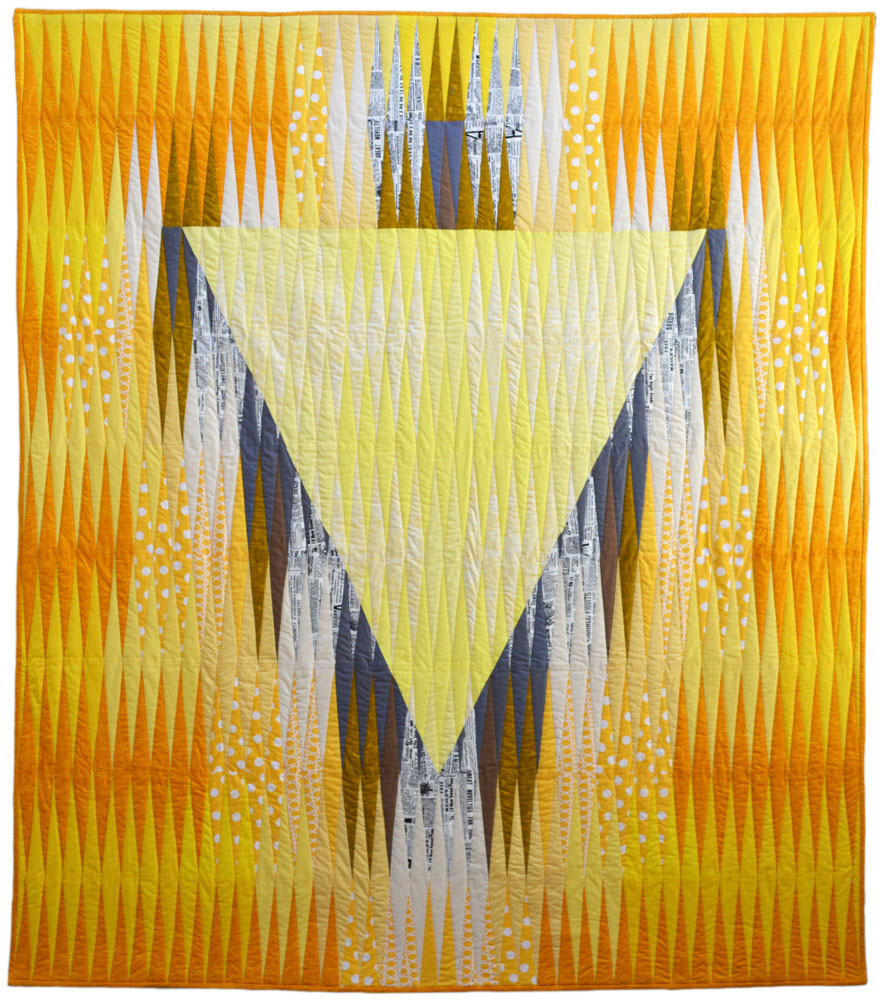 This is the photo I had taken before. You know the kind, where you plead with your husband or partner to stand on a chair and hold up the quilt all nice and straight… and this is the best we could get: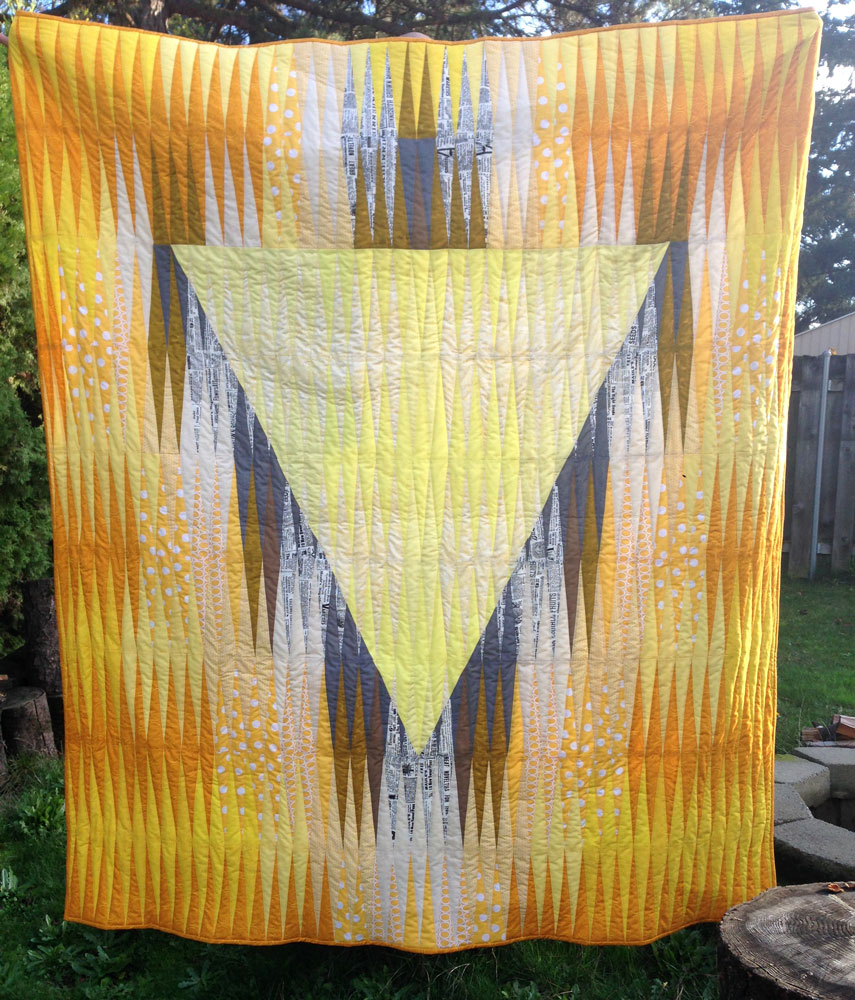 See the difference? Wow! Lighting is very important – indirect is best, and having a stand to keep things flat really helps too… and a good camera! I'm lucky I have a friend who helps me with all this, because people only look at photos when they pick quilts for quilt shows. It really matters that it looks as good as possible.
The more I look at this quilt, the more I love it. It is charged emotionally for me. The story behind the quilt is as follows:
I was doing my nightly yoga practice and a thought popped into my head. It was the realization that it has been 30 years since I've seen or talked to any of my 3 younger sisters. I was kicked out of the family home due to religious differences, and they have avoided me ever since. This thought brought me to tears. I cried through my whole yoga routine. It was a deep, ugly cry – you know the type – where you wake up the next day with a puffy face and tired body – that kind of cry.
I knew I needed to process these intense emotions, and I thought of making a quilt, of course. For the next few weeks, I started dreaming about yellow quilts. Yellow fabric, yellow thread, wearing yellow, eating bananas, sewing in the sunshine… all yellow and bright. I also knew I wanted to use triangles to symbolize 30 years / 3 sisters. While these thoughts were bubbling around in my head, I saw my massage therapist who told me about the Manipura Chakra. It governs our self-esteem and uses an inverted yellow triangle as its symbol. It also governs all the physical organs that are giving me health issues. That was all I needed to be motivated to create this design!
I wanted to use both green-shade yellows and red-shade yellows in the same quilt. It would show how seemingly very slight differences of opinion can be so glaringly different from each other. The only way I could do that was to add in some neutrals (browns and greys) and I made them look like tears to represent my sadness. What's interesting is those darker colors really make that center triangle pop out, almost 3-dimensionally! The whole time I stitched on this quilt, I repeated the mantra:
I am confident in all that I do. I am successful and release my creative energy into this reality effortlessly.
I would say this quilt is my statement of independence from both the prescribed religion and family I was born into. I have found myself, my people, and my spirituality all on my own and this quilt reflects that nicely.
Quilting for therapy is probably the best thing I've ever stumbled upon… it's such a great way to process emotion. Cutting pretty things apart, then putting them back together to create something completely new and beautiful in a different way. It is so much better than the way I use to deal with emotions, which was to drink them away. Now I have something to show for my time instead of daily hangovers!