A while back I saw a meme about quilt costs, and it was out of date, so I re-did it using more current figures. I used the original layout and only updated the costs. It has been a popular post, and after revisiting it, I knew I needed to re-vamp it.
I wanted a very average number, rather than a high-end number. I also wanted to set certain parameters. For example: the old meme was for a throw quilt, using wide backing fabric, quilting by the inch, with machine binding. That's not how I make my quilts.
I use 44″ wide fabric and piece both front and back. In the new meme, the quilt size is 60″ x 72″ made up of 2″ finished squares. Very simple, but still a little time consuming. I quilt my own quilts on a domestic Juki machine and just keep track of time rather than charge per inch. I also make my own binding and hand stitch it finished.
The time I have figured is based on many machine-pieced quilts I've made over the last 10 years where all time was documented. I'm a slow stitcher and most of my quilts take 50-100 hours to piece together, plus another 20 for quilting. For the meme, I'm figuring much less because this is based on a simple pattern rather than something more complex. I also forgot to add time for piecing the back, so I would consider this a low estimate of time.
Allowing Self Value
I believe strongly that we need to value our own work for the good of all laborers on the planet. Even if gifting a quilt… at the very least, give an accurate assessment of hours spent and a typical hourly rate. As if it was a full price receipt, in a card along with the quilt. That way, the person receiving it, will have the ability appreciate it. Better than devaluing your own hard work. (which also devalues ALL OUR WORK)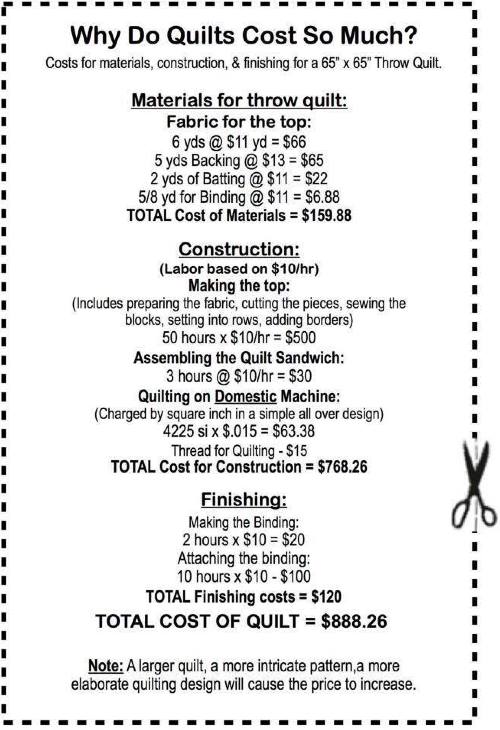 Here's the old meme for comparison. Keeping track of time spent is very eye-opening. I always spend much more time on something than I would have expected!
Happy Quilting!