Today is the day!! I'm so excited, it's the day my brand new project starts!
I am creating small Thread and Fabric Compositions once a week for 50 weeks, to push my creative abilities. The best part is that I will be offering them in a Pay-What-You-Wish format!
They are 10″ x 10″ square textile art pieces stretched over canvas stretcher bars. They have hanging hardware and are ready to hang.
I am making my first #TAFcomps post tonight at 6pm PST on Instagram @gweiss23. Offers can be made via DM (Direct Message) on Instagram until the each following Saturday at Noon PST. All offers will be numbered and run through a random number generator to pick a winning offer. The person with the winning offer will receive a Paypal.me link to send their PWYW offer*. I will ship the piece the following Monday.
* I ask an additional $12 for shipping in the US. If you live someplace else and want to participate, send your mailing address with your PWYW offer. If chosen, I will find shipping options specifically for your address.
This is my very first one! If you'd like to make a PWYW offer on this one, email me by Saturday 3/25/2023, or DM me on IG. No offer is too big or too small, if this 10″ x 10″ piece speaks to you, please make an offer!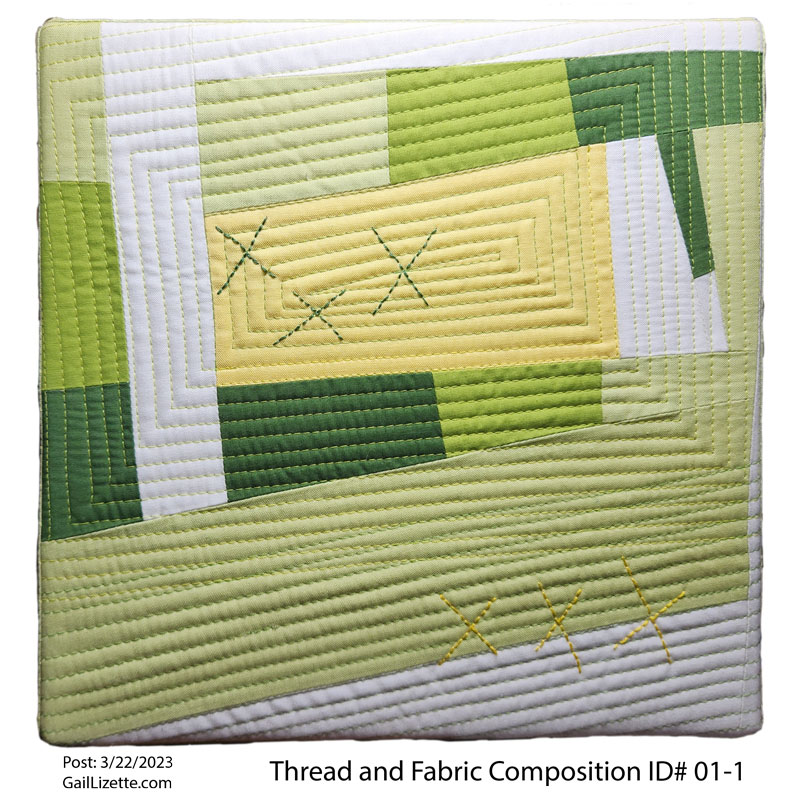 Goals
There are a few personal things I'm working on. First is letting go of attachments, and that is very difficult for me. I become very attached to the things I create, so this will be a good way to practice letting go.
I'm also excited to be able to offer my work to ANYONE… even to people like me, who are a little more financially challenged. I love the idea of everyone having the ability to purchase a little art if it makes them happy!
Lastly, I am looking at this project as a foundation to build from. I have a lot to learn in the social media world (just got my very first cell phone last year), and a few new apps to learn too. Once I feel more comfortable in that space, I'd like to try to use this quilting platform as a way to create some extra funds to cover some medical needs.
However, I'm not putting any expectations on this particular project – this one is purely to get me in the mode to create freely and NOT think about money. Once I get a good creative flow going, I'm hoping my path will make itself clear!
Follow This Project
I plan to offer at least one Thread and Fabric Composition each week for the next 50 weeks. If I make more than one a week, I'll make another post. One offer per person per post. If you'd like to follow these particular posts, use: #TAFcomps on Instagram.
If no offers are made on a particular Thread & Fabric Composition, I'll post it in my store. It will have the same PWYW format, but it will be a first-come-first-serve situation instead of randomly choosing a winning offer.
My tendency is to completely avoid marketing – especially when it has anything to do with myself! I'm trying to be better about that without seeming needy or pushy. Still have a lot to learn in the sharing department… but I'll get there! That said, I may only post once each week so I don't feel overbearing. Thanks for following!!