"Treaded" – the name I gave the new quilt pattern I created for the maximalist quilt I made last month. I really like how it turned out, and immediately wanted to make another in a totally different, more subdued color-way. Then I found out that there is another challenge for QuiltCon 2024. The challenge is to make a quilt with more than 30 different fabrics. This one definitely hit that mark.
Actually, I think most of my quilts have more than 30 different fabrics because I use all my scraps. I stopped throwing away any fabric. Kitty beds is where my super small scraps go.
This particular quilt is testing my color mixing ability. I already spent all my budget for fabric for the year, so I have to make what I have on hand work for me. Here's where I'm at so far: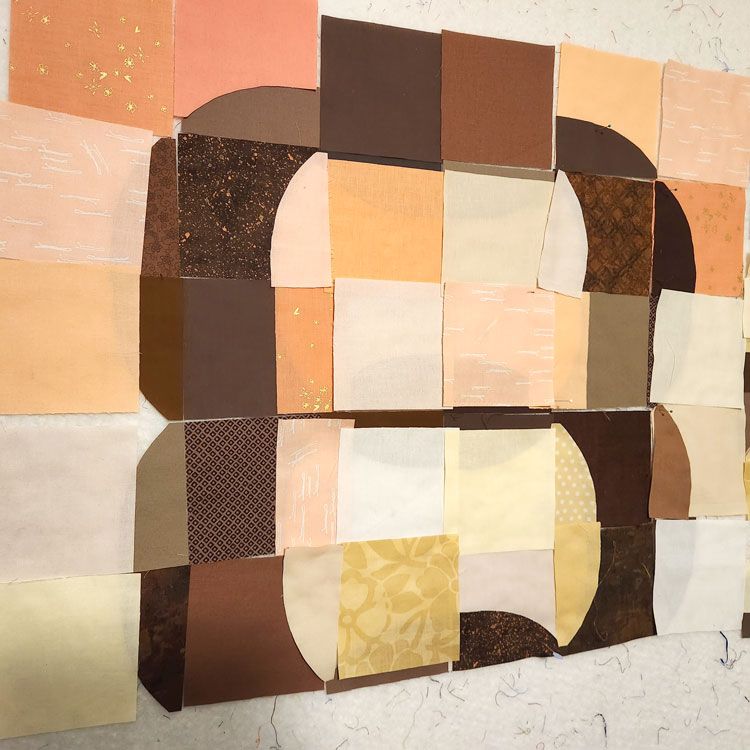 The top down to the yellow/greens are sewn together already. I'm just working on the blend from green to blue to grey… or from green to grey to blue…? It's basically that some of the colors are too saturated to contrast well with the browns. I really want to stick to pastels rather than jewel tones.
I still have a way to go before I'm happy and can start sewing again. This is the part of quilting that takes me the longest: LAYOUT. So happy to have a design wall! I had to make another smaller one to get the layout right. It's just batting wrapped around a foam insulation board and hung on the wall. Our kitty loves to scratch at it, so it could use a new layer of batting.
Kitties
Speaking of kitties, here's my Taz:
Isn't he the cutest?! He can be a butt sometimes though… the other night he attacked me when I was doing yoga. Fully trying to relax and meditate, then all of a sudden I have this guy with his teeth sunk into my arm pretty deep. Luckily the bruise has faded quite a bit already! It's just amazing that this indoor kitty can be so aggressive compared to all the ferals we take care of. I can play with all of them and NONE of them even try to scratch me.
Sad news on that front too – we lost another one to the busy road we live on. Squeegee was one of the sweetest, and my husband is pretty sad about it. The kitty graveyard is growing, but it's better than a cat just disappearing. Plus the love while they are alive is so worth the eventual emotional pain.
Threads
Have you tried the new Threads platform? If so, I'm at: @gweiss23
I never even looked at a twitter post. Mostly because technology and me don't mix well – and just doing FB and IG seems to be overwhelming sometimes. But I do like that it's more for conversation rather than just pretty pictures. I'm still not sure if I like it or not yet. What do you think about it?