At the last PMQG All-Day Sew, I started a brand new quilt.  It is for my In-Laws 50th wedding anniversary next April… and I'm pretty excited about it!
It is a first in creating a full pattern before I start sewing. I took my Mother-In-Law fabric shopping the last time she came to visit, so she was able to pick the fabrics she liked most. This is good because I really want them both to love this quilt! She picked a couple florals, a stripe, and a solid and requested some shiny gold to signify 50 years. Later I added a solid muted aqua color (can't remember the color name) that will help in making this design look a little modern.
I thought I'd share my progress on this quilt as I go since I'm just getting started. Here is my design and notes etc…. the highlighted yellow denotes the blocks I have finished. Next post I'll have some photos of the fabric.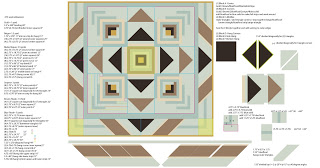 The quilt will be 110″x95″ so it will fit a king sized bed with full hang on 3 sides. It will be the biggest quilt I've ever made. Which already has me questioning the quilting. I need to talk to Nancy!
I'm super excited about our PMQG meeting tonight! It's going to be a potluck and gift swap… and we get to see more amazing quilts!!
Oh ~ for those of you keeping track, I'm at 2975 hexies made for The Dragon Quilt… less than 1000 to go and I can start laying them out!!  Special thanks to Ale, Rachel, Brittney, and Michelle for your brown scraps!