Today, as part of the 31 Day Blog Writing Challenge, I wanted to show my current fabric stash. I love to use scrap fabrics in my quilts… and I also just don't like to throw anything away, so I keep everything bigger than a 1.5 inch square.
I do this because I don't like buying things in general, and when I do – it is always for a very specific need I have to fill, and I tend to use what I buy as soon as I get it home. That means my fabric stash is a bit on the small side. That's just fine for me – it really makes me work hard at making a quilt that has an aesthetic that I like.
Here's my patterned fabric stash: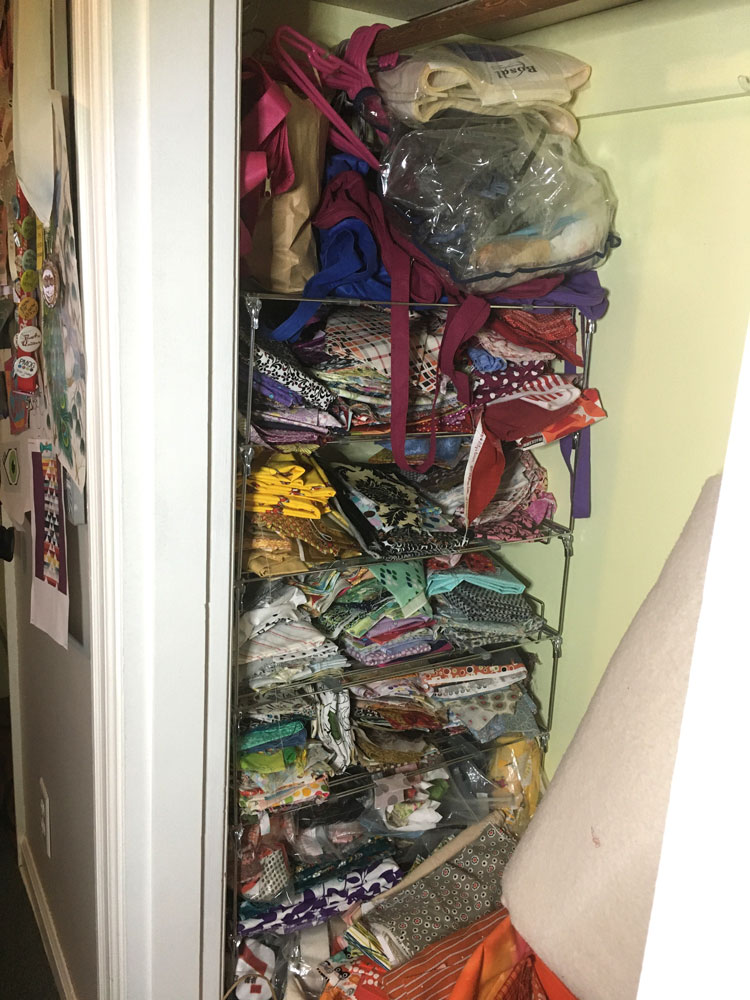 I use these stackable shelving units that fit nicely in the side of a small closet in my sewing room. On the floor right in front, that you can't see here, is a large plastic bin. You can see the roll of batting sitting on top of it… anyway, this bin holds all my solid fabrics. So I have more than seen here.
Recently I was gifted a box of gorgeous fabric from my friend Sam Hunter that helped filled my shelves. She's an artist, teacher, quilter, pattern writer, author type person who has been really active participant in our quilt guild. Actually, there are a lot of great people in the PMQG. I really miss having our monthly meetings in real life. That free table really helped my fabric stash! I keep missing the zoom meetings – I'm really out of my element when it comes to certain social technologies. Something I'll have to work on.